Sandals Resorts International has invited over 6,000 travel agents across the US and Canada to attend a series of promotional events.
The events are designed to showcase not only the Sandals and Beaches brands and their various and upcoming innovations, but also the wider Caribbean destination, which is up and running and awaiting visitors.
The 21 city trade-show-styled presentations and dinners will run September 25-December 6.

Stops along the route include Baltimore, Boston, Philadelphia, Atlanta, Houston, Long Island, Toronto and Montreal. The events provide an avenue for travel agents to view and gain first-hand information on product updates through direct interactions with senior Sandals and Beaches Resorts executives.
The events also present the opportunity for the agents to engage with tourist board representatives from several Caribbean islands.
Sandals chairman Gordon Stewart said: "One of the main reasons for Sandals' success these past 36 years is our commitment to our travel partners. We have the biggest sales team globally and we are constantly on the road, engaging the trade. We take the time to actively educate them on our Caribbean destinations, our resorts and our products, thus providing them with the necessary tools to effectively sell to our mutual clients."
The sessions are a long standing tradition for Sandals Resorts and feature personalized presentations each year. Things are ramped into 'overdrive' this year however as the company is steadfast in showcasing the Caribbean's continued readiness to welcome vacationers.
Along with highlighting the opening of its latest resort, Sandals Royal Barbados, the the events provide a sneak peak of Sandals' new wedding inspirations scheduled for roll-out later this year.
Upgrades to its flagship Sandals Montego Bay and the jewel of Jamaica's southern coast, Sandals South Coast, as well as plans for Saint Lucia were also on display.
Gary Sadler, senior vice president of global sales, said: "We recognize that our clients are not sitting and waiting for us, nor are they under our desks. It is therefore necessary for us to go where they are and the best way for us to get them to help the Caribbean particularly at this time, is for us to promote the Caribbean. We are aggressive about marketing the Caribbean."
Working alongside the company's North American sales force at each leg of the tour are more than 30 team members from various departments at Sandals and Beaches resorts across the Caribbean.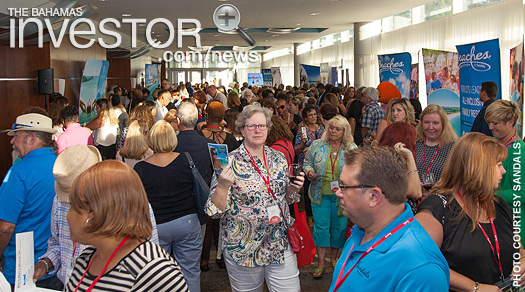 Pictured: Travel Agents mingle during a recent event hosted by Sandals. (Photo courtesy Sandals)