Minister of Education Jeffrey Lloyd will join the speaker line-up at the Second Annual Grand Bahama Technology Summit, set to take place November 14-16 at the Grand Lucayan.
Presenting on the future of education, Minister Lloyd is a major advocate for the advancement of technology in schools and believes that the advancement of technology in schools inevitable and is long overdue in The Bahamas.

"No longer can we exist in a country where the world is advancing through technology around us, and we not be affected," Minister Lloyd said during his recent budget presentation in Parliament.
"We, as a nation must embrace this advancement of technology to benefit our schools, as well as move along the education of our children."
"We are anticipating having all of our schools throughout the country properly equipped with Wi-Fi capability, which will allow students, under the guidance of teachers, to access the internet, opening up the window of greater learning ability," said Minister Lloyd.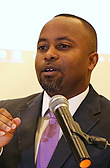 Also on the list of speakers at the summit will be Minister of State for Grand Bahama Kwasi Thompson (pictured), who will close out the conclave and reveal the way ahead for the GB Technology Steering Committee in their quest to make Grand Bahama a technology hub within the region.
Other local speakers at this year's summit will include Kristie Powell, who will lead a panel discussion on transforming education for the future; Mark Godson, managing director/Americas of GIBC Digital; Eugen Winschel, VP of SAP Global Business Operations; Gravette Brown, business development leader at Aliv; and a representative of Grand Bahama Power Co.
The second annual Grand Bahama Technology Summit will be held under the theme The Future is Now.