Source:
Date:
Updated:
Author:
TheBahamasInvestor.com
Monday, August 28, 2017
Monday, August 28, 2017
Tosheena Robinson-Blair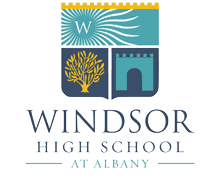 When the elite Windsor High School at Albany opens its glass doors for the first time today to an 80-strong student body, it will arguably become one of The Bahamas' most prominent schools.
Boasting cutting-edge sports academies, a state-of-the-art recording studio and an academic curriculum, based on the Cambridge system, the school is setting its standards high.
For a few lucky local students the school provides generous scholarships. Fifteen per cent of the student body will receive scholarships.
The 25-acre, upper secondary school caters to students in grades 10 to 13 (US grades nine to 12), at a cost of around $19,000 per annum.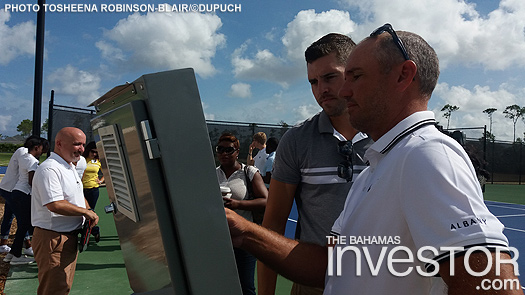 Pictured: Grant Doyle, director of the Tennis Academy, (left) shows Jon Hearn, director of golf, how the state-of-the-art technology works to monitor and maximise a player's performance at the tennis court complex at Albany. (Photo Tosheena Robinson-Blair)
Twenty-one nationalities are represented at Windsor High via its student body and team of teachers and administrators.
Lisa McCartney, founder and director of several prominent schools including Unicorn Village, The Meridian School and Windsor International Schools, said: "This campus is the manifestation of my dream of creating an environment where learners will awaken their wonder and this is a source of perpetual inspiration. Every square foot of this campus has been deliberately designed with the learners in mind.
"Its purpose is very simply: to motivate them to embrace learning to do more and to be more. I believe that this high school will have a lasting, positive impact on this country for generations to come."
Construction of the school began in June 2016. On August 26 this year, the school held its first official open house event. Later, that evening it hosted a soiree in the school's courtyard for parents and investors.
Most of the new school's student population is matriculating from its sister, middle school, Windsor Preparatory at Old Fort Bay.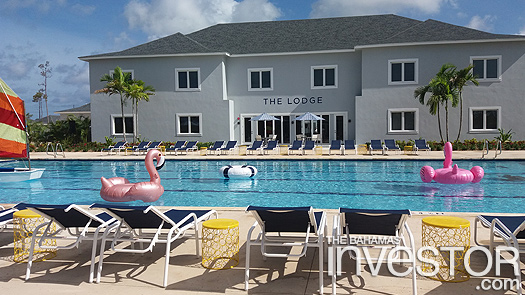 Pictured: The lodge Albany's Windsor High School accommodates 46 students in 23 double occupancy rooms. (Photo Tosheena Robinson-Blair)
Windsor is not only a day school, it hosts boarding students as well. The Lodge accommodation houses 46 students in 23 double occupancy rooms. Presently, 10 students are boarding on a permanent basis. Another six are "flexi-boarders", students who stay at the school while their parents are traveling.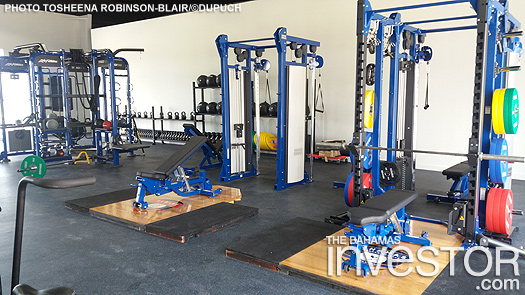 Pictured: Albany has a well-equipped gym. (Photo Tosheena Robinson-Blair)
Maximum class size is 20, though some course electives could have as little as three students. The school has 16 classrooms.
Windsor High has several signature programmes. For its Golf Academy, the school has partnered with one of the world's top golf instructors, Mitchell Spearman and with tennis champion Lleyton Hewitt for its Tennis Academy.
Pictured: Stuarts Cove's Dive Bahamas provides scuba certification to interested students. (Photo Tosheena Robinson-Blair)
For both academies, the school uses state-of-the-art technology for players to perfect their game. Grant Doyle is the director of tennis. Jon Hearn is director of golf.
Another Windsor High focus is on its marine sciences programme. The school collaborates with one of the country's leading full-service dive outfits, Stuarts Cove's Dive Bahamas, to provide scuba certification to students.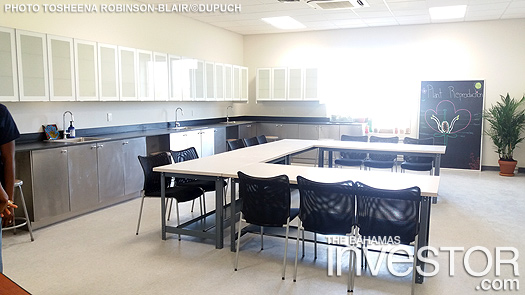 Pictured: The school also has a science lab. (Photo Tosheena Robinson-Blair)
"One of the things that make us unique is, if you walk out of our back door, down the road for half a mile, you could jump on to one of the boats at Albany and kids could go out into the field, explore the coral reefs and it's so easy," said McCartney. "It's something that would ordinarily be a well-planned field trip in another school. For us, it would be a day-to-day event."
The school also boasts an "amazing" business studies programme, according to McCartney and Christopher Anand, managing director of the 600-acre, ocean-side luxury Albany resort community on the south-western tip of New Providence. Albany collaborated with the high school to identify global industry leaders residing within its luxury community willing to be a part of a lecture series that promises to be second to none.
Pictured: The school's Lodge has a recreational area for students. (Photo Tosheena Robinson-Blair)
Anand himself will be co-teaching the business A-level programme with Nick Advani, an Albany resident and retired Goldman Sachs partner.
"They are going to get real world experiences. We are going to be teaching our kids, how to start businesses, how to run businesses, how to apply business theories to real world experiences."
Windsor High has the advantage of fantastic real-world links and education works best when you can make it relevant to the students, according to Gerry Young, head of school.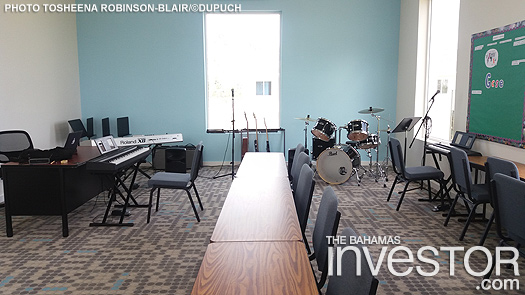 Pictured: Albany has a state-of-the-art music studio. (Photo Tosheena Robinson-Blair)
The residents of Albany are some of the most successful people in business, sports, music and entertainment today.
For instance, learners interested in pursuing a career in music have the unique opportunity to access the state-of-the-art recording studio, The Sanctuary at Albany, set along Albany's marina. Albany has a record label called IIIVII (242) Music, The Bahamas' area code.
The Sanctuary is being hyped as the "Sistine Chapel of all music studios." Some music classes will be taught there. The school also has a dedicated writing room at The Sanctuary, a facility linked with Grammy and Emmy-Award winning Timberlake, Charles Goldstuck, a former Sony music executive and Alicia Keys' engineer, Ann Mincieli.
"We are all incredibly lucky to be here at this point, at a brand-new school to do something that is unique," said Young, a 22-year-veteran educator, who admits this is his dream job. "I think we can change the world, one student at a time."
tblair@dupuch.com