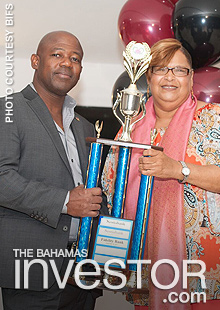 Pictured: BIFS executive director Kim Bodie (right) presents Crestwell Gardiner vice president of Fidelity Bank with the Floating Trophy. (Photo courtesy BIFS)
More than 150 financial professionals received accolades for their accomplishments at the 41st (BIFS) Annual Awards Ceremony at The Balmoral Club September 30, 2017.
Overall, 162 awardees were awarded for completion of programmes including formally-structured programmes and professional certification programmes.
Recipients reached beyond the financial arena and into other sectors including: the gaming, retail, government, education, hotel and medical sectors.
This year, the Institute had a number of achievements according to Jane Major, chairperson of the Education Committee.
"The institute has been able to complete its registration with the National Accreditation Equivalency Council (NAECOB)," she said. "This represents the first step towards the five-year process in obtaining the national accreditation."

"Like The University of The Bahamas, all other private providers of the tertiary education are required to participate in this process. The institute's accreditation is also obtained through its international partnership and endorsement."
Another achievement this year was the addition of a new certification programme – Introduction to AML (Anti-Money Laundering) & Compliance Systems 2017.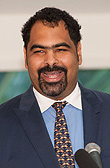 Speaking under the theme March On Bahamaland, guest speaker president of The Bahamas Institute of Chartered Accountants (BICA) Gowon Bowe (pictured), spoke to the audience about the history of the Bahamian financial sector. He reminded them that The Bahamas was once considered a major hub for European and Caribbean commercial banks.
"Where we should be very proud, is that actually a Swiss bank was not considered a real Swiss Bank, unless it had a Bahamian subsidiary."
According to Bowe, it is important for The Bahamas to keep on par with the ever-changing global financial sector. The only way to do that, he said, is to invest in continued education.
"The person that believes that the certificate that they have, means that you have come to an end, is the person that will very quickly be left behind," he said.
The final award of the evening was the Floating Trophy awarded to the company with the most employees receiving certificates at the annual ceremony. For the first time Fidelity Bank (Bahamas) Ltd walked away with the gong.
The students were not the only recipients of the evening. A special award was presented to Derek Rolle who was recently appointed deputy governor of The Central Bank of The Bahamas. Rolle's new appointment brought his 17 year commitment as a BIFS lecturer to an end. BIFS executives lauded Rolle's contribution as an invaluable one.