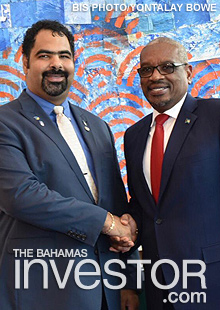 Pictured: Prime Minister Minnis (right) with BICA's president Gowon Bowe during BICA Week 2018 at Baha Mar, November 12. (BIS Photos/Yontalay Bowe)
Prime Minister Dr Hubert Minnis delivered the keynote address at the opening of The Bahamas Institute of Chartered Accountants (BICA) Week 2018 under the theme 'Effectively Transitioning in a Digital Environment: Staying Current on the Global Stage' at Baha Mar Convention Centre November 12.
During his speech, the Prime Minister noted the long history of the profession, celebrating nearly 50 years.
"BICA members represent a significant movement in Bahamian entrepreneurship, moving from a profession that was predominantly represented by expatriates to a profession that is predominantly represented by Bahamians."
"BICA has produced an impressive number of private business executives in The Bahamas, along with leaders in various public entities, including the Office of the Auditor General and the Public Treasury," he said.

According to the Prime Minister, the accounting profession remains a springboard profession, and is very influential in the affairs of The Bahamas.
"Given the role that the government of The Bahamas should play as facilitator for economic development, and laying the foundation for opportunities for our citizens, collaboration between the government and BICA is critical," he said.
The Prime Minister said that a primary objective of his government is the introduction of meaningful and accountable fiscal responsibility, which is evidenced by the tabling of Fiscal Responsibility legislation in the House of Assembly.
He said that in order to ensure accountability, the legislation establishes the Fiscal Responsibility Council, with BICA having representation on this Council.
"This is a tremendous opportunity for BICA to demonstrably influence the fiscal fortunes of the country," the Prime Minister said.
He added that his government continues to welcome the input and counsel of members of BICA on topics such as: economic development, governance, fiscal responsibility and corporate citizenship.
The Prime Minister said that central to the vision of his government is stimulation of Bahamian ownership and entrepreneurship to create jobs and to reduce poverty: in this vein, the government seeks to transform The Bahamas into a 21st Century economy by creating a technology hub in Grand Bahama.
He spoke of the need to diversify tourism in order to realize the "still untapped" potential of that major industry.
"Toward this end, we will create a Tourism Development Corporation to help Bahamian entrepreneurs to diversify within tourism. One of our core objectives must be to help to create greater economic benefits from tourism for micro- small- and medium-sized businesses," the Prime Minister said.
"This means greater diversification across various tourism platforms as well as greater linkages with other economic sectors," he said.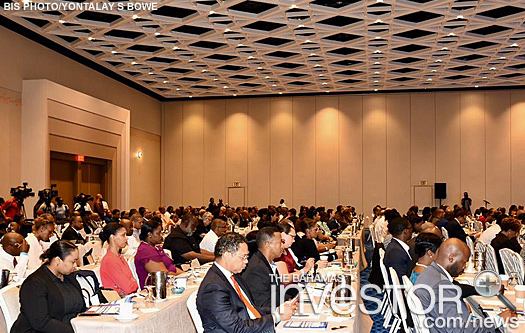 Pictured: Delegates at BICA Week 2018 at Baha Mar, November 12. (BIS Photos/Yontalay Bowe)