Here follows a statement from The Bahamas Ministry of Foreign Affairs on the appointment of a new secretary general of CARICOM:
The Bahamas government wishes to extend warm congratulations to Ambassador Irwin Leroque (Pictured, top), a national of Dominica, on his reappointment as Secretary General of CARICOM. The decision was made by the Heads of Government of CARICOM at its Inter-Sessional meeting in Placencia, Belize on 16th February.

This will be Ambassador Leroque's second and final five-year term.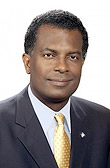 Speaking for the Bahamas Government, Foreign Minister Fred Mitchell (left) said: "Ambassador Leroque has given unqualified, good and yeoman's service to our region and deserves a second term. We support him unreservedly and congratulate him on his reappointment."