Diane Edward (pictured) has been elected as the new president at the annual general meeting of the Caribbean Association of Investment Promotion Agencies (CAIPA) to serve 2017-2019.
The event was hosted in collaboration with the Caribbean Export Development Agency (Caribbean Export), 7-8 June 2016 in Curacao.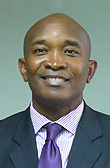 Outgoing president McHale Andrew (pictured) in his opening remarks noted the continued importance and relevance of Caribbean investment promotion agencies (IPAs) to the region's economic development and encouraged members to persevere despite the continued challenges of declining budgets and governmental changes.
The elected representatives to the CAIPA board of directors include: CAIPA president, Diane Edward; Racquel Moses, who will serve as the 1st vice president; Bernadette Ambrose-Black, 2nd vice president; while the four directors are: Ramon Koffijberg, Rhoda Joseph, Owen Verwey and Ronald Theodore.