"Driving Growth Through Private Investment" was the focus of the Caribbean Export Development Agency's (Caribbean Export) 2nd Caribbean Angel Investor Forum held at the Hyatt Regency, Port of Spain, Trinidad and Tobago last month.
The Forum which was held November 29-30, gathered a distinguished group of prominent policy makers, entrepreneurs, private and angel investors.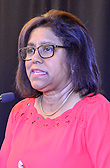 Minister of Trade and Industry with the Government of Trinidad and Tobago, Paula Gopee-Scoon [pictured] in her opening remarks underscored the challenges entrepreneurs face with the limited options found within traditional banking systems which often require collateral and venture capital to secure.
"If our businesses are to compete globally, the support of diverse investment modalities is crucial. I must applaud the angel investor ecosystem in Trinidad and Tobago which has helped to create a programme which provides a forum for budding entrepreneurs to receive much-needed early-stage capital".
The Forum is part of the LINK-Caribbean programme which is implemented by Caribbean Export with financial support from the World Bank Group.
Launched in September 2016, LINK-Caribbean is an initiative of the Entrepreneurship Programme for Innovation in the Caribbean (EPIC) which is managed by the World Bank and funded by the Government of Canada. LINK-Caribbean was designed to foster innovative and growth-oriented enterprises in the Caribbean region to raise capital from private investors and establish functioning angel groups to strengthen the start-up finance eco-system in the region.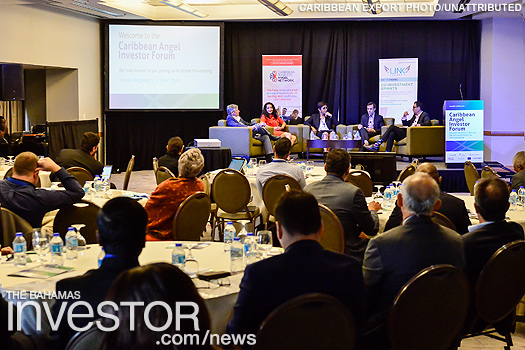 Pictured: A panel discussion at the Caribbean Angel Investor Forum. (Caribbean Export photo)
LINK-Caribbean has connected entrepreneurs with private investors, helped raise capital for innovative new and early-stage businesses as well as developed a Caribbean early-stage investing community including angel investors, institutional investors and diaspora investors.
The programme has also offered training and support services to assist companies in securing angel investment.
Among its key outputs, LINK-Caribbean awarded 24 Investment Facilitation grants to Caribbean start-ups and early-stage firms. The deployment of these grants along with other LINK-Caribbean activities played a central role in enabling 10 Caribbean entrepreneurs to raise over $2.3 million from business angel investors.
"The number of grants that have been awarded since LINK-Caribbean was launched speaks to the high interest of capital investors, angel investors and entrepreneurs in the Caribbean region," said Sophia Muradyan, World Bank coordinator for the regional programme.
"Many of the region's pressing concerns in critical sectors such as transportation, health and agriculture can be addressed by innovative solutions and ideas. We hope that these awards will inspire more entrepreneurs to innovate, grow and scale up their ideas."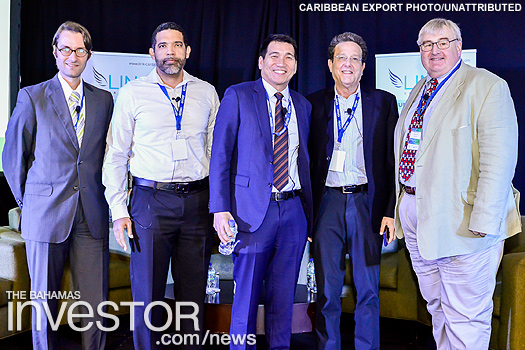 Pictured: (from left) Pablo Ignacio Garcia, Executive Director, Enlaces, Dominican Republic; Philip Lewis, Member, Trident Angels, Barbados; Robert Tang Yuk, Managing Director, TYE Manufacturing Co; Joseph M. Matalon, Chairman, ICD Group Holdings, Ltd Co-Founder & Chairman, First Angels Jamaica; Nelson Gray, business angel investor. (Caribbean Export photo)