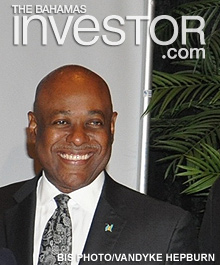 Pictured: Minister of Tourism Obie Wilchcombe. (BIS Photo/Vandyke Hepburn)
Building on the momentum of 6.2 million visitors to The Bahamas in 2013, the Ministry of Tourism recently reported double digit growth in stopover arrivals, a measurable spike in hotel room occupancy levels and rates for January 2015.
At 74,000 visitors, this represented a 13 per cent increase over the same period in 2014, a 7 per cent hike in hotel occupancy levels and an average room rate increase of 11 per cent.
During the announcement, Minister of Tourism Obie Wilchcombe said that he believes this performance means that the country is on the right track as far as tourism is concerned and is the result of his ministry's comprehensive and multi-tiered marketing strategy covering the full tourism gamut from sports and culture to co-branding, major groups and romance tourism.

The Minister said that the Tiger Woods Heroes Championship golfing event will be "the big event that will end the year," adding that he expects "thousands of people to come."
Speaking of group events, the Minister said that delegates from the 43 countries that make up the Confederation of North, Central American and Caribbean Association Football (CONCACAF) will meet here in April.
Given the economic challenges of Grand Bahama, Wilchcombe said he is particularly encouraged by the work of the Grand Bahama marketing team and the expansion in the active room inventory on that island as a result of increased demand.
Minister Wilchcombe also announced that The Bahamas has been nominated for nine prestigious World Tourism awards.