With the second week of Goombay Summer Festival (GSF) a mere memory, officials at the Ministry of Tourism are making sure that the economic benefits are felt throughout the festival period.
Director of Events Charity Armbrister believes that events such as GSF and Junkanoo Summer Festival (JSF) exist to supplement the local economy.

"It's really important that we put on these kinds of festivals and events; it's important to our local economy and our vendors," Armbrister said.
"When persons visit GSF, they can experience the true, true Bahamian culture. We have about 30 food and drink vendors, all of them selling authentically Bahamian food. We also have Bahamian artisans, giving persons the chance to purchase arts and craft."
Armbrister also noted that the vendors at both festivals have been delighted with the exposure it has given their businesses.
"Once the vendors go away very pleased, we're pleased and I know there's no vendor who has been complaining – so that tells us we're doing something right," she said.
Don Bullard, proprietor of Island Cane, said that being a vendor at both summer festivals has given his business more exposure and ultimately more customers.
"Business has been pretty good, I really love the job that the Ministry of Tourism is doing because vendors like myself are given the chance to really promote my business," Bullard said. "Being a vendor lures a lot of people to my business and the more people that visit the festivals means the more people that will see your product."
Peta Gaye, a representative of Dino's Gourmet Salad, said being a vendor is excellent because it gives them marketing opportunities.
"Being out here has been very good. We get to meet a lot of people from all over the world and some of them actually visit our stall in Gambier," she said. "From making extra cash and meeting different people from all over, it has been very good for us because it's advertisement."
Goombay Summer Festival showcases the best of Bahamian culture every Saturday in August at Arawak Cay.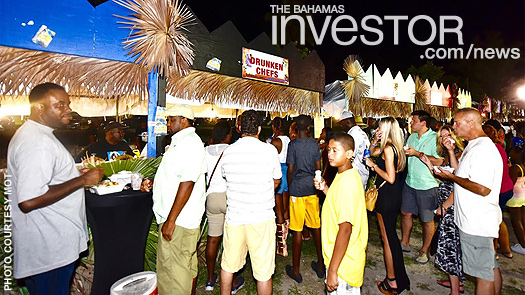 Pictured: Festival-goers gather to experience Bahamian culture. (Photo courtesy MOT)