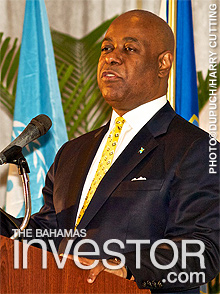 Obie Wilchcombe, Minister of Tourism, speaks at the Small Island Developing States Conference on 19 Feb 2014. (Photo Harry Cutting/©Dupuch)
Leaders from across the Caribbean converged in Nassau today to discuss challenges facing the region's tourism industry and how to overcome them to deliver sustainable growth.
Welcoming visitors to the Small Island Developing States (SIDS) conference held at the Melia Resort on Cable Beach, Minister of Tourism Obie Wilchcombe said: "Tourism is the most resilient economic engine the world has ever known. We must have the courage and the will to discuss what we can do to lift our industry."
The Minister spoke of his pride at how far The Bahamas' tourism industry has advanced in the last few decades saying: "We celebrate all that we have done and the journey we have travelled."

He also spoke of challenges unique to the archipelago, such as the difficulties with accessibility, airlift and infrastructure.
"We have many islands and many islands require infrastructure and development," he said, indicating that the future of the industry would depend on increased airlift, better co-operation between Caribbean nations and a drive to exploit the potential of online marketing.
"How do we use the digital age to impact tourism?" he commented. "We are able to reach where we could not before and we want to generate a programme of opportunity for our people."
To host the SIDS event, The Bahamas' Ministry of Tourism partnered with the Inter American Development Bank (IDB).
Since 1970, the IDB has approved around $2.6-billion worth of tourism projects in the region and, according to division chief of environment, rural development and disaster risk management Hector Malarin, is eager to fund more. He said that the "bank wants to remain a key strategic partner for the Caribbean tourism industry for many years to come."
The two-day conference runs 19-20 February. Additional speakers at the event included Prime Minister Perry Christie, who delivered the keynote address, secretary general of the Caribbean Tourism Organization Hugh Riley and secretary general of the United Nations World Tourism Organisation Taleb Rifai.
cmorris@dupuch.com