Nassau Airport Development Co (NAD) on Tuesday reported improved year-on-year financial performance, with a $7.3 million revenue increase coupled with an injection of $18 million into the local economy.
"Overall our financial position is stable," said Chris Ryan, VP of finance and chief financial officer at NAD, which operates Lynden Pindling International Airport.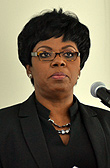 During its last fiscal year, NAD completed the third and final stage of a $409.5 million redevelopment at the airport under the watch of the company's first Bahamian president and CEO, Vernice Walkine (pictured).
The project was built on time and under budget.
With its completion, officials are now focused on paying down the debt it accrued in building three new culturally unique terminals, with the capacity to handle five million passengers, and one million square feet of aircraft operating surface.
"We take paying back this debt very seriously," said Ryan at a press conference announcing the release of the company's annual report held in the VIP Lounge of the US Departures Terminal yesterday.
From 2007 to 2012, a total of $877 million was raised to fund the project in six transactions (both financings and refinancing).
The capital structure included a combination of senior debt and subordinated participating debt – a structure that allowed rate increases associated with the project to be minimized.
The unique financing structure secured was recognized with industry awards including the Project Bond Finance Deal of the Year Award from Project Finance Magazine in 2009 and Jane's Airport Finance Deal of the Year in 2010.
NAD's financing structure is based on maintaining competitive rates at LPIA, ensuring that no government guarantees are needed and maintaining an investment grade credit rating.
The overall financing structure also depends on the company's ability to continue to grow its commercial revenue and manage its competitive rate programme.
"In these first few years of operation with the debt, it's important we show our lenders that we can be relied upon to deliver what we set out to do," said Ryan. "There is a structured methodology in which we repay the debt and we have been maintaining that methodology and paying it back on schedule."
As the participating debt carries a higher interest rate, officials are focused on paying that down "as fast as we can," according to Ryan. Thus, the cash flow the airport generates goes directly towards repayment of that particular debt.
During the last fiscal year NAD grew its revenue to $71.6 million, a $7.3 million year-on-year increase. Operating expenses accounting for $24.6 million and retained earnings amounted to $4.9 million, with the latter virtually unchanged in comparison to 2013.
"The work that we do here at LPIA is all about making connections," said Walkine, who noted that this past fiscal year officials paid particular attention to enhancing passengers' travel experience, growing airlift, ensuring NAD remains the "employer of choice" in The Bahamas and strengthening community ties through its donation of time, talent and money to charitable organizations.
"This fiscal period between July 2013 and June 2014 proved to be a significant year and signaled a shift in our operation from construction mode to full operation of the three terminals," she said. "Now our focus is on how we maximize the new systems to the full benefit of the tourism industry."
With 24 airlines serving 11 international, 18 US and 24 domestic destinations, LPIA offers more travel options than any other airport in the Caribbean region. Last year, it served some 3.2 million passengers and handled more than 85,000 aircraft takeoffs and landings.
NAD is responsible for most of the airport's infrastructure including parking lots, terminals, runways and taxiways, in addition to all revenue-generating and commercial development activities.
tblair@dupuch.com