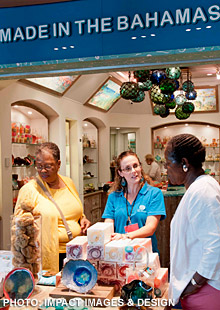 The shopping facilities at LPIA were among the criteria that scored well in the ASQ passenger surveys. (Impact Images & Design)
Upgraded airport facilities and changes to Nassau Airport Development Co's (NAD) staffing structure have led to higher passenger satisfaction scores at the country's major gateway, according to the airport operator.
Fourth quarter Airport Service Quality (ASQ) survey results at Lynden Pindling International Airport show an increase in the Overall Satisfaction category from 3.91 in Q3 2012 to 4.21 in Q4 2012. The rating is on a five-point scale.
NAD credits the uptick in scores to the fact that more than 80 per cent of LPIA's users now have an arrivals and departures experience in new facilities.

"We anticipated a bump in overall satisfaction numbers when we opened the International Arrivals terminal in October 2012. Now, the bulk of our passengers travelling to Nassau/Paradise Island by air (primarily American) have a completely transformed airport experience on arrival and departure," explains Vernice Walkine, NAD's president and chief executive officer.
A significant jump in scores related specifically to the airport environment. In the Cleanliness of Airport Terminal category, LPIA moved from a rating of 3.96 to 4.28 and in the Overall Ambiance of the Airport there was a jump from 3.78 to 4.13.
Walkine said the company's decision last fall to bring cleaning services in-house accounts for the improved scores.
"This not only created some new permanent jobs at NAD but it also allowed us to train cleaners and indoctrinate them into our corporate culture. Immediately, we saw the improvement in service levels and now have the numbers to back this decision."
NAD adopted the ASQ surveys in 2011 as a way to benchmark itself with other airports in the region and airports around the world of similar size (serving 2-5 million passengers per year). With the major infrastructural development wrapping up in the fall, NAD is now focused on a goal of improving current scores and pushing LPIA to the position of top three airports in the region in the next three years.