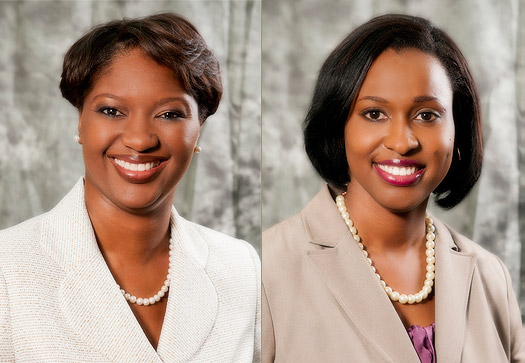 Sian Bevans (left) and Tenniel Newton (right) are the latest Bahamians to join the management team of the Nassau Airport Development Co (NAD)–the company contracted to manage and oversee the redevelopment of Lynden Pindling International Airport.
Bevans joins as the company's new director of people and Newton as business analysis manager.
"We are very pleased to welcome both Sian and Tenniel to our team. Sian brings to NAD many years of human resources experience in the brewing, hospitality, and tourism sectors," said Stewart Steeves, president and chief executive officer at NAD.
"Tenniel is a major asset to the company, who prior to joining NAD, worked in the financial and commercial analysis areas at the Department of Statistics and the US Embassy."
The new managers come at a time when the airport is undergoing a $409.5-million redevelopment.
Bevans, who holds a bachelor's degree in Business Management, will report directly to Chris Ryan, vice president of finance and chief financial officer. She will focus primarily on staff training and coaching.
Newton, a 2004 graduate of York University's Economics and Business programme and a level one CFA candidate, will report to Vernice Walkine, VP of marketing and commercial development, and will analyze factors impacting route service development, commercial performance and passenger trends.