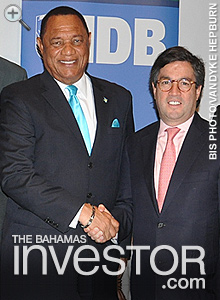 Pictured: Prime Minister Perry Christie with IDB president Luis Alberto Moreno after signing a $600,000 grant for the Andros Ecosystem Technical Cooperation Project at Grand Lucayan resort. (BIS Photo/Vandyke Hepburn)
The Bahamas and the Inter-American Development Bank yesterday signed a technical cooperation agreement worth $600,000 during the 4th IDB Caribbean Governors Regional Meeting being held at Grand Lucayan, Freeport, yesterday and today.
Prime Minister Perry Christie signed the pact with the IDB to undertake diagnostic studies and identify the ecosystem assets of Andros.
The Prime Minister was in Grand Bahama for the official opening of the meeting. He and IDB president Luis Alberto Moreno signed the agreement shortly after the opening of the conference.



During his opening address, the Prime Minister said: "The Bahamas has come to appreciate the importance of these meetings. They allow us to caucus on the pressing matters within the bank that affect our region."
Christie went on to address issues of climate change, the regional economy, immigration and national security.
"Technical and financial support from international financial institutions and development agencies, including the Inter-American Development Bank and the Caribbean Development Bank, cannot be understated as they continue to undergird the pivotal reforms to our own policy frameworks directed on a regional and country-by-country basis."
He said the IDB should be mindful of the role it plays technically and financially, in supporting the countries in the region. "When we must borrow, the ease of access to such funding must not be unduly or unreasonably inhibited. The tendency to categorize our respective countries as middle or high income must be discounted against our very fragile existence, especially having regard to our narrow economic bases, our high structural costs and our increasing vulnerability to climate change and natural disasters."
The Prime Minister said he knows the bank's president understands the problems faced in the region, and hopes they are not sidelined, but put on the front burner for improvements.
Dr Michael Darville, Minister for Grand Bahama, officially welcomed delegates on Thursday ahead of the opening.
Sessions are proceeding through today. Countries participating are: Barbados, Republic of Guyana, Jamaica, Republic of Suriname, the Republic of Trinidad and Tobago, and The Bahamas.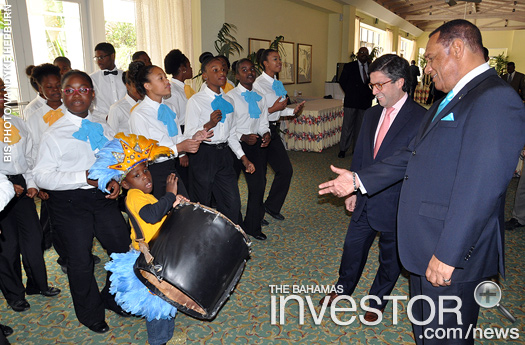 Pictured: A five-year-old displays his Junkanoo talents for Prime Minister Christie and IDB president Luis Alberto Moreno at the official opening of the IDB Caribbean Governors Regional Meeting on Thursday morning at Grand Lucayan resort on Grand Bahama. (BIS Photo/Vandyke Hepburn)