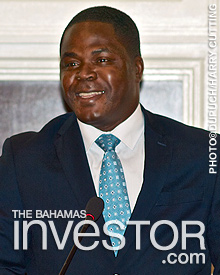 Pictured: Hon Khaalis Rolle, MP Minister of State for Investments, Office of The Prime Minister speaking at The Nassau Conference, themed "Engaging in a Transparent World". (Harry Cutting photo/©Dupuch)
Minister of State for Investments Khaalis Rolle opened one of The Bahamas' financial community's most important summits yesterday with a call for professionals in the industry to take advantage of opportunities, engage globally and stay current.
Delivering the opening address at the Nassau Conference, held at the British Colonial Hilton Nassau, Rolle said: "The Bahamas has faced a number of economic restraints in recent times, but there is reason for us to be optimistic about our country's growth."
The Minister referred to the event's theme–Engaging in a Transparent World–saying opportunities were available, provided the country was prepared to actively exploit them.

"The modern Bahamas finds itself in the midst of a globalization process," he said. "We must be more actively engaged in the positive relationships with the rest of the world. We must always ensure we position ourselves as best as possible to capitalise on opportunities as they present themselves to us."
Keeping ahead of global trends would safeguard the industry's growth, he added.
"It has been crucial for The Bahamas to keep current with the trends of the industry, ensuring there is no gap between what clients expect in The Bahamas and what they can get elsewhere in the world. As active participants in the second largest industry in The Bahamas, we all have unique opportunities to ensure the industry remains relevant."
cmorris@dupuch.com