Prime Minister Perry Christie is in Havana, Cuba, this week to address the fifth Cuba-CARICOM Summit.
Accompanying the Prime Minister are the Minister for Financial Services and International Trade Ryan Pinder and State Minister for Investment in the Office of the Prime Minister Khaalis Rolle.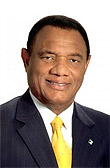 Prime Minister Christie is expected to offer assurances of The Bahamas' commitment to the relationship between the two nations as they continue to find ways to work with each other, both bilaterally and within a regional context on a number of issues including trade and technical cooperation, for the common benefit.
Specifically, there is likely to be a discussion on the new Secretary General of the Commonwealth to succeed the present Kamla Sharma in November 2015. Also and at the invitation of the government of the Republic of Haiti, the Prime Minister is expected to meet with Haitian President Jean Michelle Martelly for the first time since the new policies on immigration went into effect in The Bahamas. Migration issues are likely to take center stage during this bilateral meeting.
The Prime Minister and his delegation are scheduled back in Nassau on Wednesday.