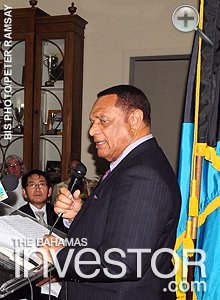 Pictured: Prime Minister Perry Christie addresses the Diplomatic Week Dinner, Balmoral Club, October 24. (BIS Photo/Peter Ramsay)
Prime Minister Perry Christie hosted a Diplomatic Week Dinner for members of the Foreign Service October 24 at the Balmoral Club.
Along the lines of the theme of the special week the Prime Minister declared: "The 21st century has thus far been marked by the rise of the global economy, private enterprise and the digital revolution, which have resulted in unprecedented global economic and cultural shifts and integration. If each nation is to achieve its aspirations of sustainable growth and development and the well-being of its citizens, it must be bold and creative. And in this regard, I consider the launching of this Diplomatic Week by the Bahamas Foreign Ministry as a response to this charge."



Christie extended a warm welcome to the diplomats for their attendance at the launch of the important foreign relations initiative. He said he was pleased to learn that there were some 23 Non-Resident Ambassadors from Asia, Africa, Europe and North and South America who had, as a demonstration of friendship, joined in the activities of the week.
From The Bahamas 12 Heads of Mission and nine of the Honorary Consuls had come home from their posts abroad to be a part of the important event. The Prime Minister thanked them for the service they have rendered The Bahamas in the international arena.
He said: "I recognize fully that in today's reality, participation, engagement and partnerships are critical factors in achieving gains in matters pertinent to the international arena and, by extension, domestic affairs."
"The Foreign Service of The Bahamas, then, is an integral component of the engine of growth and development of this country. It gives The Bahamas a voice in areas closed to the general public. It permits us access to the halls in which important decisions, that will affect the global landscape, are made.
"It allows us to forge relations with neighbouring and kindred countries and likewise to connect with countries with which we have no geographical, historical or cultural similarities.
"It provides us occasions to identify our needs and to assert our positions. And, as an overarching feature, it provides us space to advance the development agenda of The Bahamas, openly and without apologies.
"For these reasons, my government is committed to supporting and strengthening our country's Foreign Service."
The Prime Minister told the group that Diplomatic Week provided "an opportunity for The Bahamas to reflect on its international partnerships and its place in the international community."
Likewise, it provided "the space to consider the future and initiate new foreign relations endeavors."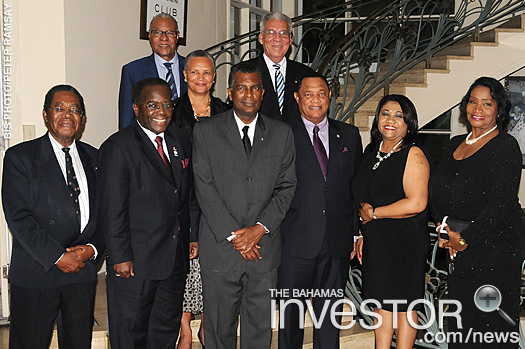 Pictured: Prime Minister, centre right, with the Governor General Her Excellency Dame Marguerite Pindling, centre, and Minister of Foreign Affairs and Immigration the Hon. Fred Mitchell at centre left, with awardees for exemplary service in the Ministry of Foreign Affairs. (BIS Photo/Peter Ramsay)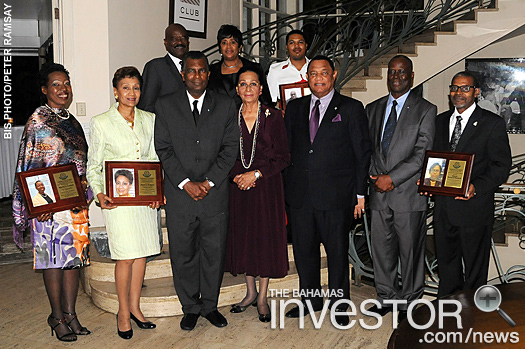 Pictured: Prime Minister, centre right, with Minister Fred Mitchell, centre left; and with them, left to right: Dr Eugene Newry, ambassador, Washington, DC and permanent mission of The Bahamas to the OAS; Calsey Johnson, high commissioner, Canada; Eldred Bethel, high commissioner, United Kingdom; Sheila Carey, charge d'affaires, Beijing, China; Forrester Carroll, consul general, New York; Paulette Adderley-Zonicle, consul general, Washington, DC; and Alma Adams, ambassador, Cuba. (BIS Photo/Peter Ramsay)