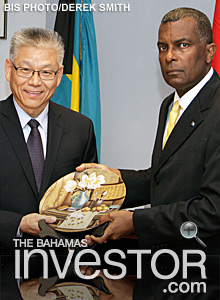 Chinese Vice Foreign Minister, Xie Hangsheng (left), and Foreign Affairs and Immigration Minister Fred Mitchell exchange gifts. (BIS photo/Derek Smith)
"Through the signing of this agreement, our tourism industry which is the cornerstone of this nation's economy will be strengthened. With this agreement, The Bahamas will join North America, Europe and Australia as one of the top destinations for over 70 million Chinese tourists who frequently travel internationally. Additionally, Bahamians who travel frequently to China for business and tourism opportunities will now be more easily facilitated," Minister Mitchell stated.

He along with China's Vice Foreign Minister, Xie Hangsheng, signed the agreement during a ceremony at the Ministry of Foreign Affairs December 19. Government officials including permanent secretary Philip Miller and a Chinese delegation witnessed the event. The agreement allows Bahamian and Chinese nationals to travel un-restricted without a visa for up to 30 days.

Mitchell said it is evident that both The Bahamas and China are in an important stage of economic and social development, with The Bahamas on the brink of an economic leap forward nearing the completion of the Baha Mar project and with China's phenomenal growth and status as the world's second strongest economy.
The signing of the agreement will indicate that the two countries have "great" bilateral relations and in the future there will be further talks on technical and economic agreements.
"This agreement is not only a great bi-lateral achievement, but is also a critical step towards the realization of the government's policy for visa-free travel for Bahamians," Minister Mitchell added.
China's Vice Foreign Minister Xie said the agreement is a new step in the bilateral relationship of The Bahamas and China.
"It will facilitate the people-to-people exchanges between our two countries. More and more Chinese visitors and investors will come to the beautiful Bahamas," he said.
Minister Xie said prior to signing the agreement he and Prime Minister Perry Christie discussed extensively the bilateral relations with China and The Bahamas and reached extensive common ground on how to promote this cooperation.
He said The Bahamas is an important country in this region and very famous tourist attraction and off-shore financial centre.
The bilateral history of travel agreements between The Bahamas and China began in 2005 with the signing of the Approved Destination Status Agreement. The Bahamas and China have shared diplomatic relations since May 1997.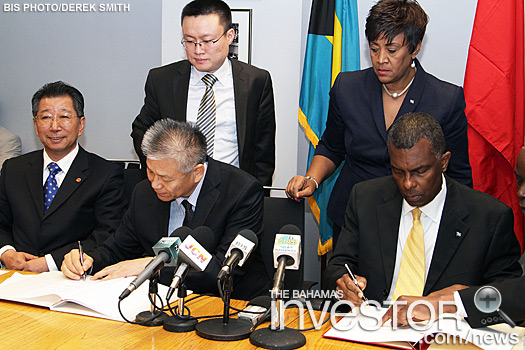 Pictured: Chinese Vice Foreign Minister, Xie Hangsheng (second from left), and Foreign Affairs and Immigration Minister Fred Mitchell sign the Mutual Visa Exemption Agreement between the Government of The Bahamas and the Government of the People's Republic of China as Chinese Ambassador to The Bahamas Yuan Guisen (seated first from left) looks on. (BIS Photo/Derek Smith)