Prime Minister Perry Christie led a delegation of several Cabinet Ministers and senior government officials to attend a ceremony marking the acquisition of the Abaco Club on Winding Bay.
Southworth Development, an internationally recognized developer and manager of residential resort communities, announced that it acquired the hotel and residences from Marriott Vacation Worldwide Corp, earlier in the month.

After congratulating the principals of the development, Prime Minister Christie said that the sale of the Abaco Club marks a new era for the island.
"Tourism is the lifeline of the country," said Christie. "The acquisition of this property by Southworth and projects such as Baker's Bay signify a significant boost for the economy of Abaco."
Christie said that it is important that all Bahamians "recognize and appreciate" the importance of guaranteeing the future of the country.
Developments such as this one, explained Christie, situate the country in a better position to guarantee its future.
"I want all Bahamians–especially Abaconians–to know that 'Abaco is on the move again.' The sale of the Abaco Club demonstrates that Abaco is poised to enter a new phase of development and is ready for even more opportunities for development," noted Christie.
President and chief executive officer of Southworth Development David Southworth said he was pleased to be doing business in The Bahamas and that he and his family looked forward to taking up residence in The Bahamas, demonstrating their commitment to the project.
Southworth said more capital would be injected into the property to improve the amenities and facilities available.
"The Abaco Club has everything money can't buy," said Southworth. "It's a gorgeous setting, with a well-thought-out master plan and a passionate membership. It's the perfect complement to our existing properties and we look forward to taking this world-class facility to an even higher level."
Southworth is planning a multi-million-dollar renovation of the existing facilities, which will begin immediately. A new state-of-the-art golf practice facility will be added, in addition to a new marina and boathouse.
The Abaco Club was previously owned by a Marriott affiliate and managed by the Ritz Carlton. It was subsequently acquired by Southworth Development of Newton, Massachusetts, along with a consortium of Abaco Club members and homeowners in December 2014.
The club sits on 453 acres and features an 18-hole golf course, the world's first Scottish-style links in a tropical location, designed by Donald Steel and Tom Mackenzie.
Clubhouse amenities include the sportsman's bar, locker rooms, comfortable lounges and screened porches.
The golf course was recently named the best in the region by an international golf magazine.
The Abaco Club on Winding Bay is 25 to 30 minutes by car from Marsh Harbour and its International Airport.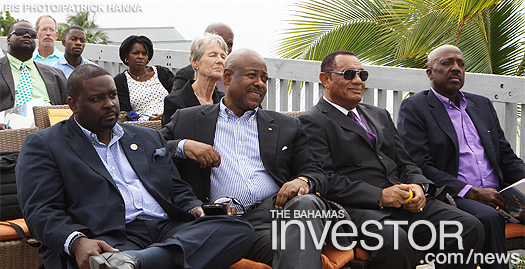 Pictured: Prime Minister Perry Christie with a delegation of Cabinet Ministers and senior government officials at a ceremony marking the sale of the Abaco Club at Winding Bay December 11. Left to right: Minister of Environment and Housing Kenred Dorsett; Minister of Tourism Obie Wilchcombe; Prime Minister Christie; and Minister of Labour and National Insurance Shane Gibson.(BIS Photo/Patrick Hanna)