A total of sixteen Bahamians were awarded scholarships from the government of China, with a further two gaining scholarships from the Confucius Institute at The College of The Bahamas.
This marks the largest scholarship cluster since the programme's inception and the establishment of diplomatic relations between the two countries in May 1997.

The 2014 People's Republic of China Scholarship Ceremony was held at the Melia Cable Beach Hotel August 18, 2014.
Joining 58 other Bahamians who have benefitted from this programme over the last 17 years, the recipients will pursue both undergraduate and graduate studies in China in a wide variety of academic disciplines including economics, marine engineering, clinical medicine, genetics, enterprise management, public diplomacy, international communication and public administration.
On hand to congratulate and encourage the recipients were Zhang Fangfang from the Chinese Embassy; Haldane Chase, director of the Confucius Institute at the College of The Bahamas; Yuan Guisen, Chinese ambassador to The Bahamas; and Fred Mitchell, Bahamas Minister of Foreign Affairs and Immigration.
During his keynote address, Mitchell noted that he was pleased that the students received this opportunity not only to receive a tertiary education, "but to be ambassadors of our nation, to share with the people of China the richness of our heritage, traditions and culture."
Below is the list of scholarship recipients and their areas of study:
2014-2015 CHINESE GOVERNMENT SCHOLARSHIP RECIPIENTS
BACHELOR'S DEGREE
Teshar Johnson – Economics
Duran Ching – Marine Engineering
Jonathon Saunders – Clinical Medicine
Tyrus Ambrose – Clinical Medicine
Asiyiah Robinson – Bio Medical Engineering
MASTER'S DEGREE
Janeen Braynen (2yrs) – Genetics
Jamaal Bullard (2yrs) – Enterprise Management
Angelika Hilerbrandt (1yr) – Public Diplomacy
Thelma Rolle (1yr) – Public Diplomacy
Jaimie Gibson (1yr) – International Communication
Eric Rose (1yr) – International Communication
Isheika Cleare (1yr) – Public Administration
Rhonda Smith-Martin (1yr) – Public Administration
Nekeishna Sutherland (1yr) – Public Administration
Etosha Rahming (1yr) – Public Administration
Gia Smith (1yr) – Int'l Econ of Bus. Admin
2014-2015 CONFUCIUS INSTITUTE SCHOLARSHIP RECIPIENTS
Tray Rollins (6 months) – Mandarin Languages
Gustave Williamson (2yrs) – Environmental Science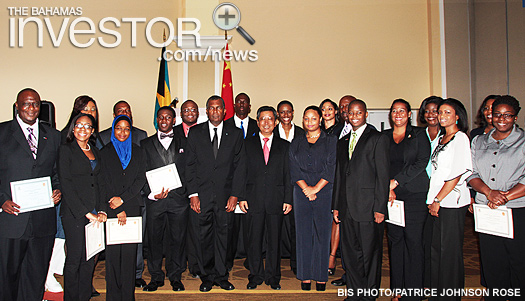 Pictured: Cabinet ministers, senior government officials and stakeholders pose with the Bahamians who received scholarships to attend university in the People's Republic of China. The scholarship award ceremony was held at the Melia Cable Beach Hotel August 18, 2014. (Photo/Patrice Johnson Rose)