Commonwealth Bank officially opened the doors to its new $800,000 corporate learning centre last month.
Located adjacent to its Prince Charles Branch on New Providence, the 8,740 sq ft single story building houses high-tech training facilities, including interactive digital and audio-visual equipment, and conference rooms.
"Service is what sets us apart, and that service does not come without constant reinforcement of its importance," bank president Ian Jennings (pictured) said when the contract for the new learning centre was signed in late February.

The new facility designed by Arcop Ltd Architects and built by Watson Construction will free up much-needed space at The Plaza, Mackey Street which houses the plaza branch, MasterCard credit centre and the bank's head office.
The renovations were completed on time and on budget reported director Earla J Bethel, premises committee chair. "We were very fortunate. The job went absolutely according to plan, just over four months to the day for the renovations of an older building that was on the site."
According to Anthea Cox, vice president of human resources and training, the new centre facilitates the bank's commitment to an ongoing learning culture.
"We are really excited about our new state of the art Corporate Learning Centre which will allow us to facilitate our in-house training in a modern, high tech learning environment," she said.
Commonwealth Bank has 11 branches in New Providence, Grand Bahama and Abaco, six of them with Saturday banking, in addition to numerous off-site ABMs for 24-hour banking. Since going public in the year 2000, the bank with more than 6,000 shareholders has not missed paying a quarterly dividend and has paid an additional extraordinary dividend in most years.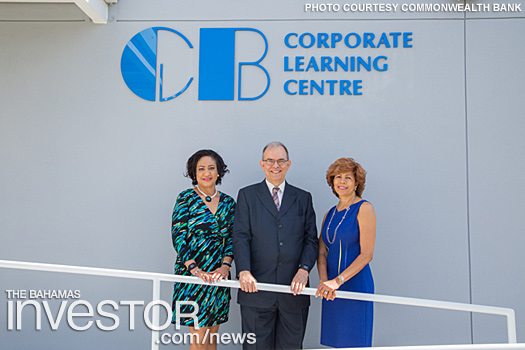 Commonwealth Bank officially opened its corporate learning centre on Prince Charles Drive. Pictured: (from left) Anthea Cox, vice president of human resources and training; Ian Jennings, president; and Earla J Bethel, director and premises committee chair. (Photo courtesy Commonwealth Bank Ltd)