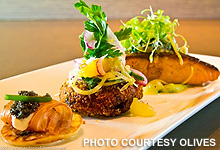 Chef Todd English introduces his Olives restaurant to Atlantis Paradise Island, opening today.
Featuring his signature open kitchen and Mediterranean cuisine, Olives Atlantis will provide a social and interactive dining experience for guests in the bustling Atlantis Casino.
Designed by interior architect and designer Jeffrey Beers, the restaurant is Olives' first in the region.
Pictured: A Todd English signature dish – Salmon three ways. (photo courtesy Olives)
"We are thrilled to welcome yet another celebrity chef to the Atlantis dining experience," says George Markantonis, president and managing director of Atlantis.
Olives Atlantis joins the ranks of some of Atlantis' favorite dining outposts from around the world including Chef Nobu Matsuhisa's restaurant, Nobu, to the Southwestern cuisine of Bobby Flay's Mesa Grill or 3-starred Michelin Chef Jean Georges-Vongerichten's Café Martinique.
"Olives will provide our guests with a taste of the Mediterranean in paradise. We are proud to add a restaurant of this calibre to our current world-class culinary roster," added Markantonis.
Olives Atlantis will offer a casual dining experience with a three-meal-a-day menu, featuring English's signature interpretive Mediterranean cuisine, as well as a variety of coastal dishes.
Olives Atlantis will feature an open kitchen where English's team will be preparing dishes from a rotisserie grill where guests can enjoy made-to-order cuts of meat and grilled fish.
The Raw Bar will offer a large fresh seafood display with daily offerings of shellfish, clams and oysters, and a wood-burning oven will showcase English's thin-crust flatbread pizzas.
The restaurant will also stay open until 3:00 am to cater to late-night dining requests for those guests in the Casino or Atlantis' adult nightclub, Aura.
"I'm excited to be collaborating with Atlantis to bring my Olives brand to the islands, and to capture a brand new dining audience," said English.
"I always look forward to collaborating with Jeffrey Beers who has designed many of my restaurants across the US. Together, with his design inspiration, I look to create a casual, yet exciting dining experience suitable for everyone–whether you're seeking a quick and delicious lunch, an intimate and elegant couples dinner, or a leisurely and fun meal with family and friends."
Olives Atlantis will feature a 6,850 sq ft interior with large vaulted ceilings and a rustic décor.
"I love working with Todd, and on this collaboration at Atlantis we had an immediate boost from our excellent experience–and mutual respect–working on other Todd English projects," says designer Beers.
"Olives Atlantis captures the essence of the original Olive's restaurant in Boston, blending a rustic Mediterranean aesthetic with a Caribbean sensibility and the excitement of being at a casino. It's thrilling to see a fresh interpretation of Olives at the Atlantis resort; I am really proud of the design, and of the entire team," he added.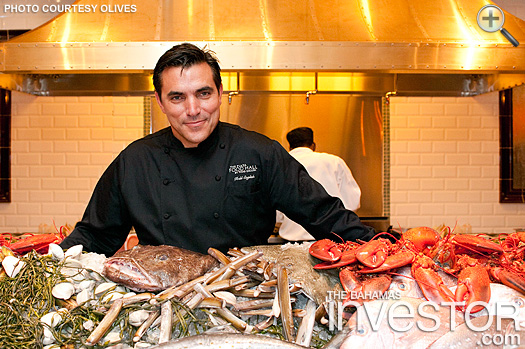 Celebrity chef Todd English. (photo courtesy Olives)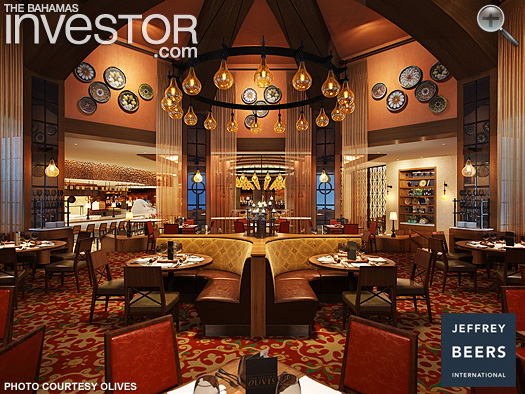 A Jeffery Beers designed Olives restaurant. (photo courtesy Olives)