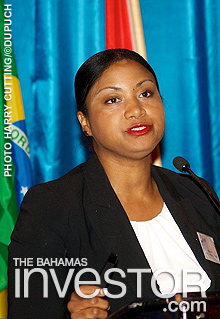 Aliya Allen, CEO, Bahamas Financial Services Board, speaking at the Bahamas International Investment and Business Forum (BIIBF) held in Freeport, Grand Bahama. (Photo Harry Cutting/©Dupuch)
In the wake of the global economic downturn, there has been a shift towards a culture of responsibility within the international financial services sector, according to Aliya Allen, chief executive officer of the Bahamas Financial Services Board (BFSB).
"There is a need for an image overhaul. Firms are embracing a new era of responsibility," she said. "They want to be in a jurisdiction that reflects those values."
Other client concerns are whether a jurisdiction has a fair legal system, a history of corruption or an unstable economy, said Allen during an address at the Bahamas International Investment & Business Forum (BIIBF) in Freeport last week.

The BFSB head said the industry needed to "win back the trust and confidence of the public."
However, Allen was optimistic regarding The Bahamas' performance as an offshore financial hub, saying: "I think there is an enormous amount of opportunity in The Bahamas."
She pointed to the depth of expertise among financial services professionals in the country and said the sector benefitted from a combination of homegrown talent and international expertise.
"Financial services is not just a money business, it is a knowledge business. That is key."
She said the jurisdiction should offer something unique to investors, such as the SMART Fund model, the latest version of which was introduced in August 2012 and is the first of its kind.
"I have engaged industry to ensure we are incredibly responsive to international initiatives and first to market with innovative products," said Allen.
cmorris@dupuch.com