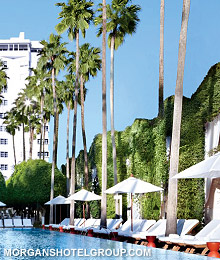 NEW YORK, June 12, 2013 /PRNewswire/ — Morgans Hotel Group Co. (NASDAQ: MHGC) ("Morgans" or the "Company") today issued a letter to shareholders in connection with its 2013 Annual Shareholder Meeting scheduled to be held on June 14, 2013.  The text of the June 12 letter follows:
Dear Morgans Hotel Group Shareholder:
We have previously mailed you our proxy materials for Morgans' upcoming 2013 Annual Shareholder Meeting to be held onFriday, June 14, 2013.  Given the critical importance of the meeting, we urge shareholders to vote the WHITE proxy card for Morgans' Board slate, which is best positioned to execute a sale of the Company and maximize value for all shareholders.
Note: Underlining for emphasis (not linked).
THERE IS A CLEAR CHOICE FOR SHAREHOLDERS: SALE OR STALEMATE
Last week, Morgans' Board slate announced its 100% commitment to promptly initiate a sales process for the Company upon re-election at the 2013 Annual Shareholder Meeting on June 14, 2013.  Shareholders now have a clear choice:
Elect Morgans' slate, which already provides for proportional representation of OTK Associates LLC ("OTK"), to

immediately begin a sales process to maximize value for shareholders

; 

OR

Elect the Taubman and Olshan family-controlled OTK slate, which offers a vague "plan" that does not address the Company's balance sheet challenges or significant consent rights and which would result in a 

stalemate and substantial "uncertainty and animosity"

with the Company's largest creditor, The Yucaipa Companies ("Yucaipa").
OTK IS NEITHER WILLING NOR ABLE TO PURSUE STRATEGIC ALTERNATIVES
There are a number of reasons that suggest OTK would be neither willing nor able to pursue a sale of the Company to maximize value for all shareholders now.
No solution for Yucaipa consent rights: Yucaipa, which owns warrants to purchase 12,500,000 shares of common stock, currently holds 

consent rights over, among other things,

a sale of the Company or substantially all of its assets

for so long as Yucaipa has "the right to purchase through exercise of the Warrants (whether or not any or all of such Warrants are exercisable), an aggregate of at least 6,250,000 shares of Common Stock."[1]  Yucaipa has already publicly declared that it believes that 

OTK is not qualified to run a sales process

and that the election of the OTK slate will lead to continued uncertainty and animosity and detract from and actually deter any effort to maximize value for all shareholders.
Misaligned cost basis: OTK entered the Company's stock at an average cost of approximately $15.20 per share, raising important questions about whether it would credibly support a sale of the Company below this price.
Pursuing family objectives: OTK is seeking to put three Taubman and Olshan family heirs and a long-time family employee on the Board, which suggests they envision Morgans as a long-term family enterprise to pursue their family interests.
We do not believe that OTK's nominees will be able to effectively pursue a sale of the Company given Yucaipa's consent rights and Yucaipa's public stance on the subject.  In addition, we have doubts about the commitment of OTK's nominees to any sale process given OTK's cost basis, its refusal to enter into any reasonable compromise to date, and its apparent objective of handing control of Morgans to Taubman and Olshan family heirs and affiliates.
It is important to note that Yucaipa announced its support for the Company's Board slate and for a sale of the Company – although Yucaipa declared it will not bid for the Company itself.  Yucaipa's support should allow the Company's Board slate to proceed in running a sales process quickly and efficiently.
MORGANS' BOARD SLATE IS 100% COMMITTED TO PROMPTLY INITIATING A SALES PROCESS UPON ELECTION
All of our Board nominees 100% support selling the Company in an expeditious process because they believe it is the right thing to do based on recent events and the current potential to maximize shareholder value.
Growing interest from potential buyers: We are seeing increasing interest from potential acquirers and the Company has received directly, or through our financial advisors, expressions of interest from nine hospitality companies.
Significant value creation opportunity: Our Board and management team have created a high-growth, high-cash-flow, asset-light business model that can attract a strong price multiple, which is underscored by recent transactions for similar models.
Shareholder feedback: We have received significant shareholder feedback over the last several weeks urging our Board to pursue a sales process.  Given this feedback, together with the current expressions of interest in the "plug-and-play" business model we created, Morgans' slate announced its commitment to initiate a sales process.