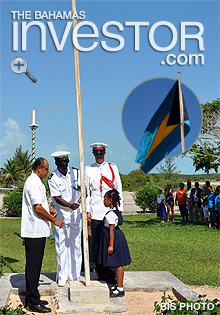 John Ritchie (left) and primary school student Ava Watkins (right) hoist the flag at a special ceremony on Long Island June 11, 2013, assisted by representatives of the Royal Bahamas Defence Force and the Royal Bahamas Police Force. (Photo/BIS)
On the second leg of its national tour, the national flag commemorating the 40th Anniversary of Independence landed on Deadman's Cay, Long Island, June 11.
The flag was transported by the air division of the Royal Bahamas Defence Force.
The flag was hoisted on the grounds of Deadman's Cay airport.
The flag hoisted there was the same flag that replaced the Union Jack on July 10, 1973 at Clifford Park.
Chester Fox, deputy councillor and Sharon Cartwright, South Town chairperson brought brief remarks and the crowd was entertained by the Mangrove Bush Primary School May Pole Dancers.