The Moore Bahamas Foundation, an affiliate of Louis Bacon's Moore Charitable Foundation, earlier this month donated $50,000 to the Bahamas Reef Environment Educational Foundation (BREEF), allowing the non-profit organization to create a much-needed position of Research and Field Conservation Officer.
"This is a really important position that will enable us to reach thousands more students every year," says Casuarina McKinney-Lambert, executive director of the education-oriented organization, which marks its 20th year this year.

The Conservation Officer will focus on opportunities for students to explore Goulding Cay and southwest reef areas, also known as Clifton Bay or Western Bays off the southwest tip of New Providence, its director says.
"Until Moore Bahamas offered support, increased demand by teachers to take their students to west New Providence bays could not be met by current BREEF staff," McKinney-Lambert explains.
"This support will fill the critical gap in our education programme. A strong water safety component and a swimming event will be included. The grant will also make it possible for teachers and students to get more involved with BREEF community science projects, such as conch midden surveys and monitoring juvenile crawfish in nearshore areas."
"We could not have done this without the support of the Moore Bahamas Foundation and we are really appreciative of the opportunity that will make it possible for Bahamian students to take part in field and research activities throughout the year," adds McKinney-Lambert.
The executive director of the Moore Charitable Foundation/Moore Bahamas Foundation said the grant was a natural fit.
"The Moore Bahamas Foundation applauds BREEF for its many contributions that mirror our core goals of bringing the urgency of environmental conservation to the forefront," says Ann Colley, executive director, The Moore Charitable Foundation/Moore Bahamas Foundation.
"We agree with BREEF that experiential education is key to creating the next generation of environmental leaders. It is because of BREEF's work that hundreds of teachers in The Bahamas have been sensitized through hands-on experiences with land and marine resources every summer. In turn, those teachers are able to open students' eyes to the natural world around them. When the opportunity arose to support BREEF's request for research and education, it was a natural fit and we were very pleased to assist."
BREEF is a Bahamian non-profit foundation that was established by Sir Nicholas Nuttall in 1993. BREEF's mission is to promote a sustainable relationship between Bahamians, visitors and the coral reefs.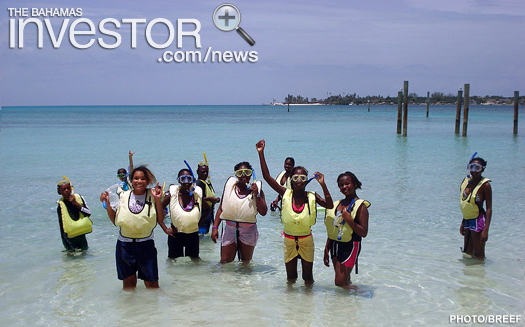 Students from the BREEF 2011 Sea Camp learn about marine conservation in Clifton Bay. (Photo courtesy of BREEF)