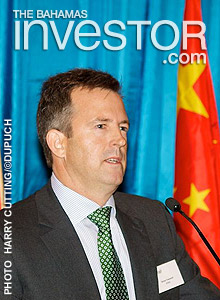 The growing infrastructure gap in the Caribbean region represents a lucrative opportunity for foreign investors, according to KPMG partner Simon Townend.
Speaking at the Bahamas International Investment & Business Forum (BIIBF) held at the Grand Lucayan Resort in Freeport this week, Townend said services in The Bahamas such as road maintenance, schools, hospitals and transport links were all "critical to a successful competitive economy" and that several key areas were ripe for investment.
"It is a huge opportunity for investment," he said. "We are not building for today, we are building for the future. A lot of this is going to have to come from the private sector."
He stressed that infrastructure investment, such as the $400-million redevelopment of the Lynden Pindling International Airport in Nassau, would produce good returns over the long term and benefitted from less competition in the Caribbean, saying: "[these investments] give long-term returns and [the sector is] less competitive than in the US or the larger countries."

Townend also warned that, should the infrastructure gap widen, it could negatively affect economic growth in The Bahamas and identified the areas of greatest need as education, energy and healthcare.
"There is no doubt that crucial infrastructure is critical for the development of trade for the region. Massive investment opportunities exist in The Bahamas to enhance the infrastructure platform for growth in trade and industry."
"If we can unlock private capital in the region and partner that with foreign investment, I think that is the perfect solution."
The BIIBF, which is hosted by the Commonwealth Business Council (CBC) in collaboration with the Grand Bahama Port Authority (GBPA) and the Bahamas Investment Authority (BIA), winds up today with a tour of the Freeport Container Terminal and Grand Bahama Shipyard.
cmorris@dupuch.com