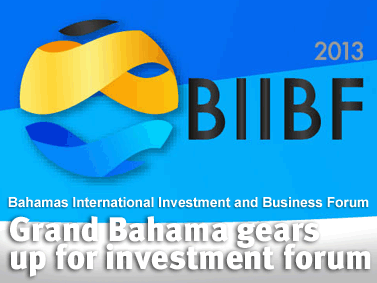 The Bahamas Investment Authority in partnership with the Grand Bahama Port Authority and the Commonwealth Business Council will host the Bahamas International Investment and Business Forum (BIIF), 20–22 February, 2013 in Freeport, Grand Bahama.
Under the theme "At the Crossroads of 21st Century Trade and Investment," the forum will highlight the key advantages The Bahamas, and Grand Bahama in particular, will have in capitalizing on the expansion of the Panama Canal, which is due to be completed in 2014.

The forum will provide an opportunity for the government to articulate its trade and investment priorities and offers a platform for stakeholders to highlight the unique advantages of The Bahamas as an international shipping, logistics and business hub.
It will also focus on opportunities in banking and financial services, tourism, real estate, information and communication technology, business services and the knowledge economy, energy exploration, renewable energy, agriculture and manufacturing.
The event will be global in scope attracting international and regional businesses and investors with a focus on Asia, Africa, Europe and the Americas.
The forum will also be an opportunity to discuss regional integration and the significance of the Caribbean as a gateway to the Americas.
The Bahamas is strategically located between North and South America, with vast potential waiting to be capitalized upon, and investors are welcome to explore and learn more of those advantages, whilst enjoying our beautiful country and warm hospitality.
For more information, please contact the following agencies:
The Bahamas Investment Authority at www.bahamas.gov.bs/bia
The Grand Bahama Port Authority at www.gbpa.com
The Commonwealth Business Council at www.cbcglobal.org
The Bahamas Chamber of Commerce www.thebahamaschamber.com