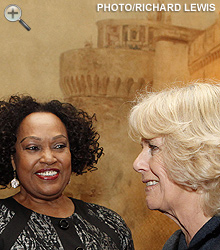 Ed Bethel, High Commissioner of the Commonwealth of The Bahamas to the Court of St James, attended a reception hosted by The Prince of Wales and the Duchess of Cornwall, for Realm High Commissioners at Clarence House in London, January 24, 2013.
A Commonwealth Realm is a sovereign state within the Commonwealth of Nations that currently has Queen Elizabeth II as its reigning constitutional monarch and shares a common royal order of succession with the other realms.
There are 16 Commonwealth Realms: Antigua and Barbuda; Australia; The Bahamas; Barbados; Belize; Canada; Grenada; Jamaica; New Zealand; Papua New Guinea; Saint Kitts and Nevis; Saint Lucia; Saint Vincent and the Grenadines; Solomon Islands; Tuvalu; and the United Kingdom.