Source:
Date:
Updated:

PRWeb
Thursday, February 7, 2013
Thursday, February 7, 2013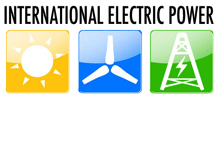 CREII offers $1 billion of project financing for new renewable energy projects in the Caribbean.

Enzo Zoratto, President and COO of International Electric Power, LLC (IEP) presented company's achievements and strategies of power plant development in the Caribbean territories at the 13th Annual Caribbean Energy conference, which gathered more than 240 energy industry professionals and was held in the Bahamas during January 24 and 25.
IEP is an Independent Power Producer (IPP) that builds, owns and operates a portfolio of alternative and renewable power generation assets globally with a focus on reducing the energy dependence of local economies on expensive imported fuel, and mitigating energy shortages to power economic growth. Founded in 2007, IEP has been developing projects in the Caribbean and understands the unique energy challenges faced countries in the region and has participated in transactions that have significant social and economic impact.

Mr. Zoratto spoke about two topics. The first was a case study of Project Phoenix, IEP's waste-to-energy project in Haiti. The other was the announcement about IEP's partnership with a large US investment bank to begin a new Caribbean Renewable Energy Investment Initiative (CREII).
According to Mr. Zoratto, Project Phoenix will be the largest private investment transaction in Haiti since the earthquake of 2010. It is a success story that will set the tone for future investments and the economic growth of Haiti. Mr. Zoratto shared lessons learned in IEP's pursuit of signing definitive agreements with the government of Haiti, and the company's hurdles to implement Project Phoenix. Mr. Zoratto's speech was well received by private investors as they learned about the necessary work required to gain support for a project of this size, scale and complexity from all stakeholders, including the Government of Haiti, Multinational Organizations, and other governments involved in Haiti's recovery. When implemented Project Phoenix will produce up to 30 MW of base load power, and provide 1,600 jobs, while leaving the streets of Port-au-Prince free of municipal solid waste.
The CREII offers $1 billion of project financing for new renewable energy projects. Project opportunities would need to meet certain criteria to be considered and be qualified by December 2013. Mr. Zoratto addressed governments, utilities, IPPs, technology providers and renewable energy project developers. Projects to be considered should respond to host country's power needs, available resources and the political landscape, and are anticipated to be between 2 to 25 MW, although larger projects would also be considered. Interested parties must demonstrate that significant progress has been made in areas such as power purchase agreements, land control rights, fuel studies, environmental impact assessments and interconnection studies.
International Electric Power, LLC (IEP) is an independent power company headquartered in Pittsburgh, Pennsylvania. IEP is in the business of acquiring or building and owning energy-related projects worldwide with a special focus on electric power generation from natural gas and renewable energy sources.