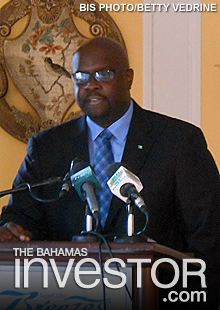 Pictured: Minister of the Environment and Housing Kendred Dorsett speaks at a one-day stakeholders workshop at Super Clubs Breezes, August 12, 2013. (BIS photo/Betty Vedrine)
Stakeholders from both the government and private sectors gathered at Super Clubs Breezes to discuss issues affecting the environment earlier this week.
The one-day workshop brought together a cross-section of agencies to discuss issues facing the environment, with a view to creating the necessary framework needed to meet global standards.
Minister of the Environment and Housing Kendred Dorsett delivered the keynote address.
Calling on all stakeholders to assist in protecting and preserving the environment, Minister Dorsett said there needs to be a creative framework that enables countries such as The Bahamas to set a global agenda that enables collective international action, while delivering effective support to national efforts.

"Here in The Bahamas, there is a need for economic growth, which in our context means physical interaction with the environment," he said.
"With the understanding that change does not come by simply spending more money, we are embarking on a multi-faceted response that places consistent emphasis on the creation of sustainable jobs," he said.
"It is a challenge to ensure that economic growth is compatible with sustainable development and that our ecosystems are not sacrificed for immediate economic gains."
Minister Dorsett told the participants that they were essentially asked to meet as a part of a global process of national preparations for the 2014 Small Island Developing States (SIDS) conference with technical support from the United Nations systems and partnership with inter-governmental organizations.
He said the government is looking for ways to effectively emphasize the importance of the protection of the environment and the conservation of the country's national resources, oceans and undeveloped land and seek to reduce the country's dependence on fossil fuels by encouraging the use of alternative energy sources.