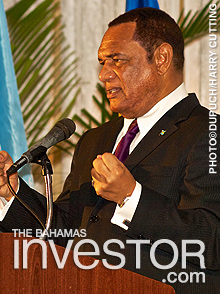 Rt. Hon. Perry Christie, Prime Minister, Commonwealth of The Bahamas speaking at the Small Island Developing States Conference on 19 Feb 2014. (Photo Harry Cutting/©Dupuch)
Prime Minister Perry Christie has said that he wants to diversify the Bahamian tourism product to reflect the country's unique history and culture, and has spoken of plans to develop a museum and historical attraction in San Salvador to capitalize on that island's connection to Christopher Columbus.
San Salvador is believed to be the first land Christopher Columbus discovered on his landmark 1492 voyage to the New World. The government want to mark his landing site with a museum featuring replica ships from the era. The Prime Minister also said he wanted to establish a model Lucayan Village and turn the ruins of the early 19th century Farquharson plantation into a tourist attraction.

"We are allowing our history to go into oblivion," he said. "There is a distinct flavour to the Caribbean. We cannot allow modernization to consume everything."
The Prime Minister made his comments during the Small Island Developing States (SIDS) conference in Nassau yesterday. The two-day event brought together tourism leaders from across the Caribbean to discuss the industry's issues.
During his keynote address at the conference, Christie encouraged Caribbean citizens to take pride in their tourism product and said that national pride would be reflected in the visitor's experience. "[Our] most compelling obligation is to enjoy our countries in the way we expect people to come in and enjoy them."
The Prime Minister also pointed to the region's natural attributes from its white sand beaches and beautiful year-round climate to the wealth of marine life in the waters around the islands. He said it was paramount that governments protect these natural resources so that future generations could benefit from them. "Our policy must be to protect the environment that we have. The pristine beauty of our countries."
Attending the SIDS conference were various heads of government as well as representatives from the Inter American Development Bank, Caribbean Tourism Organization and the United Nations World Tourism Organization.
Addressing the delegates, the Prime Minister stressed the importance of working together to develop the Caribbean's tourism sector, saying: "We are only as strong as our weakest destination. We must make ourselves stronger through cooperation."
cmorris@dupuch.com