The Bahamas Chamber of Commerce and Employers Confederation (BCCEC) today launched its new Business to Business Mentorship programme designed to connect struggling small business owners with more seasoned captains of industry in a bid to grow their businesses and ultimately strengthen the Bahamian economy.

The six month pilot phase of the programme kicks off on Monday next week and will see 20 small and medium sized enterprises (SME) owners link up with experienced mentors to get advice on all aspects of running a company from sales and marketing to accounting practices.
Each pair will meet for at least six hours a month. They will also be reviewed by the BCCEC's SME Mentorship Committee every six weeks to monitor their progress.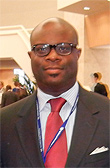 Speaking at the programme launch, BCCEC chief executive officer Edison Sumner (pictured, stock photo) said: "Today the BCCEC is opening the door to a new group of small and medium sized businesses with a new level of support never before offered to a start-up business in The Bahamas."
"We hope that we will be able to provide the kind of useful information and assistance that will allow a start-up business to get up on its feet, taking baby steps at first, before walking on its own with the experience they need to continue, to grow, to accomplish and to contribute to the community in which they operate."
Minister of State for Finance Michael Halkitis and Minister of State for Investments Khaalis Rolle lent their support to the project and said that the government was strongly committed to assisting SMEs.
"The only way this country and this economy will survive is if we have a very strong SME sector. Small business is the back bone of the economy and we must never ever lose sight of its importance," said Minister Rolle. "The beauty of the programme being launched today is that it satisfies the need of both the private sector and the government. It has the potential to transform what could be a struggle into survival, and survival into success."
The BCCEC is currently evaluating which business owners will be accepted into the programme and hopes to pair its mentorship teams together by the first week of September. If the pilot programme is successful, the organization hopes to roll out the scheme throughout the Family Islands.
cmorris@dupuch.com