Source:
Date:
Updated:
Author:
TheBahamasInvestor.com
Thursday, May 26, 2011
Thursday, May 26, 2011
Catherine Boal
The Bahamas Chamber of Commerce (BCC) and the Bahamas Employers Confederation (BECon) have joined forces to create a new body charged with raising standards and identifying new business opportunities in the private sector.
The new Bahamas Chamber of Commerce Employers Confederation (BCCEC) is designed to deliver more services and provide greater value for member businesses. It will encompass ten divisions including Business Development, Education and Training, Small and Medium Enterprise (SME) and Trade and Commerce, among others.
"We went through a process to crystalize where we needed to be with both entities and we realised if we did not merge, we would not get the value we wanted," explained BCC president Khaalis Rolle who is also the BCCEC's first chairman.

At the BCCEC's official launch, Rolle explained that the new body is the result of years of discussion and collaboration between the BCC and BECon. "The road here has been a very long one dating back to 2001 when the discussions first started," he said. "The BCC and BECon share a long history. We are both advocate organizations and have focused a lot of our efforts on advocating for the business community."
Rolle said the new body would reach out to the wider business community not just in Nassau, but throughout the Family Islands and provide members with a host of new services including business counselling, a job search website, HR support and networking opportunities.
Other functions of the new organization include representing and assisting SMEs, influencing government policy, promoting positive industrial relations and reaching out to young professionals.
"We made something that is going to be used as a benchmark for all of the Caribbean," said Rolle.
BCCEC Board Members (2010 – 2011) present at launch: Back Row (L-R): Philip Simon, Pauline Petty, Peter Goudie, Azaleta Ishmael-Newry, Brian Nutt, Michele Rassin and Robert Myers. Front Row (L-R): Chester Cooper, Khaalis Rolle and Winston Rolle.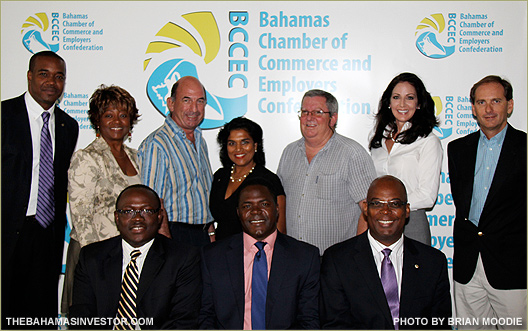 cboal@dupuch.com