Source:
Date:
Updated:

Caves Heights
Friday, October 4, 2013
Friday, October 4, 2013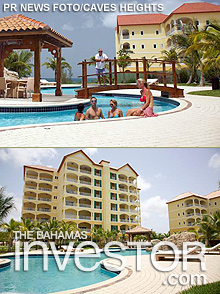 NASSAU, Bahamas — Global foreign investors flock to The Bahamas to bask in warm weather and enjoy the low cost of living. Gaining permanent residency here remains a highly feasible option and Caves Heights luxury condominium development in Nassau offers the ideal solution – affordable oceanfront property with all the benefits. The Bahamas has zero rate income tax, capital gains tax, wealth tax, or inheritance tax.
"We've seen a significant increase in the number of foreign investors expressing interest in properties priced above $500,000 USD," said Caves Heights, VP/Sales & Marketing Gustaf Hernqvist. "The demand for these condos is extremely high now there is an increased awareness of the strong investment potential in the Bahamas, with the remaining available units now becoming an exclusive commodity."

Residency rules in The Bahamas require a minimum investment of $500,000 USD in real estate, however the government is considering a possible increase in this figure to $750,000 USD. Applicants must be of good financial standing and before making any decisions, foreign investors should always research the rules for foreign real estate investments that apply in their country of residence, and that all standards and rules are met when changing residency.
Caves Heights features two-, three-, or four-bedroom condos ranging from 1,855 to 4,594 square feet and most priced between$695,000 and $1M USD. Amenities include heated lap pool, family pool with central dining island, fitness center, tennis, gazebos, fountains, BBQ, 24-hour security and parking.
The adjacent Caves Village is reached via golf cart track, with carts provided to residents, and offers a variety of shops, restaurants, spa, salon, fine wine store, and other amenities in a courtyard style development with paved walkways and landscaping.
With direct flights from major cities in Canada, US, South America and UK, among others, Nassau has become the most easily accessible second-home destination for foreign investors in the Caribbean.
Oceanfront real estate is at the top of the list for buyers in search of an excellent investment opportunity in a highly sought-after destination that is experiencing an exciting economic boom and renaissance. The ultimate island lifestyle awaits owners in elegantly furnished two- and three-bedroom condos and four-bedroom penthouses, all with spectacular oceanfront views inWest Nassau, which has successfully remained independent of world markets.