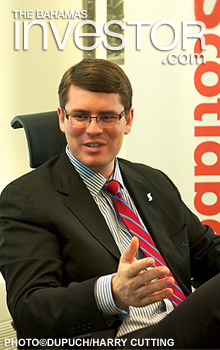 Although Scotiabank (Bahamas) Ltd income statements are posting an improvement year on year, on most business fronts profit margins remained flat save for a strong showing from the bank's wealth management division.
Scotiabank's managing director Kevin Teslyk (pictured) made the disclosure Tuesday during an informal press luncheon.
Teslyk couldn't provide specifics as the bank is in the middle of its audit. The company's fiscal year ends October 31. The bank intends to formally present its financial statement to the board by late January, early February.
"On paper the results from an income statement perspective will show an improvement year over year as a result of extraordinary activities or action we took in 2011, when we took some incremental provisions for credit losses against the residential mortgage portfolio, normalizing or averaging that out," explained Teslyk, who took up his current post 18 months ago.

"Net income, asset growth and deposit growth were all fairly flat, which is what we were projecting and planning at the beginning of the 2012 fiscal year."
Still, all the business lines (retail, corporate, commercial, small business and wealth management) came through and met their targets, notwithstanding the challenges.
The bank's wealth management business performed particularly well, posting double-digit growth in the 15-20 per cent range.
"Percentages always look and sound better when you're starting from a smaller base," noted Teslyk.
This is Scotia's third year since the re-launch of its Private Client Group. Teslyk thinks the business line can sustain that kind of growth rate and better, "north of 20 per cent."
"We are new to the game and we are going to compete aggressively," he said. "We've got lots of innovative solutions that work well for us outside of The Bahamas that we need to start offering within The Bahamas."
The wealth management division is one of the key growth areas the bank is looking to continue to leverage and invest in 2013 and beyond. Professionals (emerging affluent and the affluent) are the ones driving the business in the Bahamian markets.
In fact, next year Scotia expects all of its growth to come from its wealth management and corporate/commercial business. Still, it's going to be another "flattish" year given the ongoing challenges on the personal/consumer and small business fronts.
In regards to personal banking and the mortgage market, Scotia continues to invest and grow in The Bahamas.
The bank committed over $8.2 million in capital projects during 2012, and brought on stream about a dozen new jobs.
tblair@dupuch.com