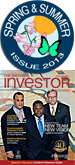 The Bahamas' tourism sector is worth an estimated $2.3 billion and has long been the major pillar of the jurisdiction's economy. As regional competition increases and the recession lingers in the US, officials at the Ministry of Tourism (MOT) are eyeing new strategies as a means to secure future growth in the sector.
According to David Johnson, director general of MOT, The Bahamas resisted the regional trend of targeting the lower end of the market when the economic downturn hit in 2007/08. Destinations such as the Dominican Republic, Cuba, Jamaica and Cancun provided incentives for large scale development of the low-end resorts that offer all-inclusive products, he says. "Developers came in and made huge investments in very large enterprises, pre-selling customers from the point of origin."
The business model is successful in spurring immediate growth, says Johnson, but in the long term, only small amounts of the money remain in the destination. "Some say those are the destinations that are winners, but there is very little money in the country."
Alternatively, The Bahamas chose to develop the high-end market and wait for the right project that would suit its luxury branding. That opportunity came in the form of Baha Mar (see page 66). The mega-resort on New Providence is to comprise six hotels with approximately 3,500 rooms and condominiums, and is projected to generate almost $15 billion in gross domestic product. It will also lessen the employment pressure, providing more than 8,100 direct and indirect jobs, totalling in excess of $7 billion in wages over a 20-year period, Baha Mar officials predict. 
Air capacity
Although Baha Mar will undeniably give the tourism sector a boost when the resort opens towards the end of 2014, it presents significant challenges for the government in terms of airlift, says Johnson. Baha Mar's opening means the government needs to provide 500,000 airline seats to fill the additional rooms coming on stream. As it stands now, the number of seats on flights to The Bahamas totals 1.2 million.
"We are talking with carriers along the lines of how we get them each to contribute a percentage of that additional lift either through adding new services, more frequent services, larger aircraft, or a combination thereof," says Johnson. "We are talking with every carrier serving The Bahamas today."
The MOT is also in discussions with Latin American and Chinese airlines not currently serving The Bahamas. "We're talking about carriers in the Far East, such as Air China, and those who would enter into a relationship with a US carrier to offer a seamless service, with hopefully one stop, into The Bahamas from gateways such as New York, Atlanta, or London."
Johnson says the government is also looking to expand direct services from the US. The Bahamas has two dominant source markets for air stopovers–New York and South Florida, which together contribute some 60 per cent of total arrivals. "We are looking at having a real presence in the Midwest through a hub like Chicago," says Johnson. "We are talking to United Airlines about that. We have an initial response from them to put in a limited service, prior to Baha Mar operating, that we hope will grow to a much larger service opening up the Midwest and the Pacific Northwest."
Carriers, such as JetBlue, have demonstrated their ability to respond to travellers' demand for The Bahamas. "They [JetBlue] are very bullish on the destination," says Johnson. "They want to continue to be our largest carrier and largest suppliers. If they are getting 20 per cent of the 1.2 million and they want to retain 20 per cent of the additional 500,000, then they have to find about 100,000 seats. They understand that and they feel they can do that."
Visitor numbers up
Some 5.5 million visitors came to The Bahamas in 2011, of which fewer than 1.5 million were stopover visitors. An increase in air arrivals was due, in large part, to a free companion airfare and air credit programme. According to Gary Young, the MOT's director of planning, research and statistics, in 2012, The Bahamas is set to record an eight per cent increase in visitor arrivals, with total tourist spending for the year expected to be around $2.3 to $2.4 billion. "There's a longer stay and a higher spend visitor that is coming here," says Young. "Tourist expenditures are getting back to a sustainable level in terms of where we used to be … but we are getting back to where we were in 2008."
The increased visitor numbers are in part due to new routes from Latin America. In 2011, Copa Airlines of Panama started flying to Nassau. Flights have been twice upgraded in capacity and frequency since service began. Latin American business, and more specifically business from Panama, Colombia, Brazil, Argentina, Uruguay, Chile and Peru, has subsequently increased and is projected to continue its high growth pace. "So far, in comparison to 2008, the number of visitors from Latin America is up 14,000," says Young. "That's quite a jump and all of that has occurred in 2011."
Johnson says both cruise visitors and air travellers are equally important to the sector. Cruise ships bring nearly five times as many visitors to The Bahamas, in comparison to those who travel by air. Cruise ship passengers, however, spend on average $70 per person on shore, whereas a non-cruise visitor spends $1,200. "I want to fill the ports and the hotels. It's not one or the other," says Johnson. "We need to be good at both. The Atlantis Paradise Island resort gets the benefit of almost $30 million plus every year in revenue from cruise passengers. That's a big deal for them." 
Johnson believes that luxury all-inclusives such as Sandals, have helped slow the dominance of cruise ships. "The repeat rate on all- inclusives–those that are well managed, strong brands–is much higher than the repeat rate on traditional hotel vacations. That's telling us something and we have to pay attention."
Challenges and opportunities
Competition in the region has also been heating up. When it comes to the prospects of a fully liberalized Cuba, Johnson takes a philosophical approach. "The things you do not control, or cannot control, are the things you should worry less about," he says. "We can control delivering an exceptional service, attracting fresh investment to develop new product experiences and lowering our costs, so as to attract investment."
Johnson sees Cuba driving the demand to the north of the region, further strengthening The Bahamas' position, particularly with the cruise ship industry. "If more ships positioned themselves closer to Cuba–which they would love to do because it saves fuel, their largest uncontrollable cost–then Cuba and The Bahamas is a great combination," says Johnson. "That's where cruise tourism started. We can benefit
from Cuba. We have been benefiting from Cuba."
Pointing to Cuba's ability to attract the Russian market, Johnson says the Ministry would love to woo visiting Russians from Havana to The Bahamas, if only for a week.
Marketing paradise
The MOT's budget is just under $90 million. Almost 45 per cent of that is spent on direct marketing. The focus of the campaigns, says Johnson, is on the Family Islands, reinventing Grand Bahama, making it more competitive, and then sustaining Nassau and Paradise Island. "The Ministry's goal is to chart a sustainable future of growth and development for the Family Island tourism product," he says. "It's the true future of the country in many ways, economically and socially."
The MOT spends the most in the US, which is also the market with the lowest cost to visitor ratio. In Europe, The Bahamas invests the most to land a visitor, with the UK being the most favourable country. Although the European market is "weak," the Ministry views its advertising efforts as "priming the pump for a return." In Latin America, marketing costs are competitive although higher than Canada, says Johnson.
In conclusion, Johnson says that there are two dynamics driving The Bahamas' future tourism strategy: luxury all-inclusives and the realization that a much larger proportion of the world's wealth is further away and outside of the US. To that end, the MOT is cognizant of the need to relax visa requirements that deter visitors from travelling here. "Mexico has shown that one can take chances in liberalizing visa requirements and eliminating them for many foreign countries and the results have been huge gains," says Johnson. "Although we are pursuing it, we haven't found a way to facilitate ease of access to The Bahamas." The success of The Bahamas, he says, lies in the nation's ability to adapt to these challenges.