The Bahamas was one of the top performing markets in the Caribbean last year, according to the Expedia Group which said demand for the destination soared by 20 per cent in 2019.
The most in-demand islands last year were The Bahamas, Cuba, the Dominican Republic, Jamaica, Puerto Rico and Aruba, according to the travel giant's recently released 2019 update. These markets saw a 25 per cent jump in standalone demand with most travellers coming from the US, Canada, Brazil, the UK, France and Mexico.

The number one market for The Bahamas was the United States, which increased by 25 per cent, followed by Canada, the UK and France. Tourists to the country stayed an average of three days and had an average booking window of 38 days.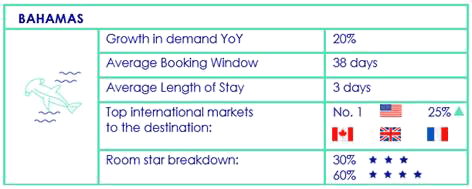 Overall, Puerto Rico saw the most growth last year, with a 40 per cent increase in demand, as the island continued its recovery from Hurricane Maria. Cuba and Jamaica were the next most popular, each with a 25 per cent boost in bookings.