The Caribbean Development Bank (CDB) has praised The Bahamas for its recovery efforts after Hurricane Dorian, highlighting the country's successful fiscal policies and strong performance in tourism.
In the wake of the devastating category 5 storm, the CDB approved a $50 million policy-based loan to The Bahamas.
Speaking at the bank's annual news conference this week, CDB director of economics Dr Justin Ram said: "The approval recognised the government's ongoing reform programme to maintain fiscal discipline and build resilience to natural disasters."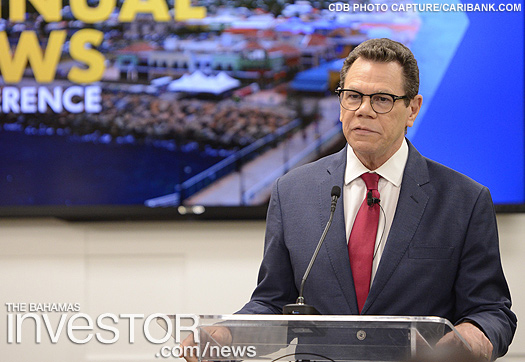 Pictured: CDB president Dr Wm Warren Smith. (CDB Photo/Caribank.com)
While The Bahamas' debt rose last year to 66 per cent of GDP, CDB president Dr Wm Warren Smith acknowledged that the hurricane had derailed government efforts to promote fiscal responsibility saying: "Prior to hurricane Dorian, The Bahamas' fiscal deficit was actually narrowing, but debt rose slightly as the government attempted to meet the initial post-hurricane financing requirements. The debt, nevertheless, remained manageable."
And despite substantial damage to the tourist hubs of Grand Bahama and the Abacos, The Bahamas still recorded the country's highest ever number of visitor arrivals.
Tourism was up across the region, according to the CDB, which noted double digit growth in visitor arrivals to St Kitts and Nevis and the Cayman Islands.
The Caribbean economy remained subdued however, with regional growth dropping from 1.6 per cent in 2018 to 1 per cent in 2019.
"Our borrowing member countries recorded another year of low growth," said Dr Smith. "This slowdown was consistent with relatively sluggish global growth."
The countries which saw the most movement last year were Anguilla, with 10.9 per cent growth, and Dominica whose economy expanded by 5.7 per cent.
Looking ahead to 2020, the bank is projecting 4.1 per cent growth – driven by Guyana, which expects to begin oil production this year.
Dr Smith warned that results throughout the region would be mixed however, saying: "Economic growth will remain lopsided and below the sustainable rates needed for long-term resilience. Barbados, Grenada, Jamaica and St. Kitts and Nevis must stay on course with their home grown socio-economic reform programmes. Others should join the bandwagon and commence, with alacrity, implementation of their own adjustment programmes."