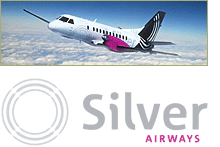 Silver Airways has received approval from the United States Federal Aviation Administration (FAA) to operate its new aircraft, a Saab 340Bplus.
The Fort Lauderdale-based airline initiated scheduled passenger service utilizing the new aircraft type March 29, along its Florida-Bahamas route network.
"This is a momentous day for our airline, and one that will certainly be celebrated by our employees and passengers–many of whom were pleasantly surprised today, as they boarded our new, enhanced aircraft," said Darrell Richardson, chief executive officer of Silver Airways. "We are committed to providing our customers with the highest-quality flight experiences by delivering premium service and the comfort and convenience they value and deserve."

Silver Airways has secured agreements with Saab Aircraft Leasing to purchase 12 Saab 340Bplus aircraft. The airline has accepted delivery of the first three to date, with the remaining aircraft expected to complete integration into the Silver Airways fleet by September this year.
Each aircraft is subject to a period of inspection and certification under US and Bahamian aviation regulations to ensure full compliance with all safety and operational requirements prior to initiating scheduled passenger service.
Each Saab 340Bplus features comfortable seating for 34 passengers, large, easy-to-access overhead bins, personalized flight attendant service, an active noise reduction system and on-board lavatories. The new aircraft will be used to upgrade service on existing routes, increase frequencies and allow Silver Airways to add new service in additional markets.
tblair@dupuch.com