Gulfstream International Airlines has reached an agreement with Saab Aircraft Leasing to obtain six, 34-seat Saab 340Bplus aircraft.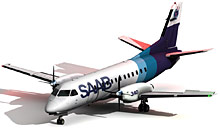 The Fort Lauderdale-based airline, which serves more destinations in The Bahamas than any other US carrier, will deploy all six Saabs on its Florida/Bahamas routes, replacing the smaller, 19-seat Beechcraft 1900D aircraft.
"This investment will enhance our customers' flight experiences by providing them with the premium service and comfort they value and deserve" says Darrell Richardson, chief executive officer of Gulfstream International Airlines.

Saab 340Bplus aircraft features include: seating for 34 passengers; large, easy-to-access overhead bins; and an active noise reduction system. The airline will also run a personalized flight attendant service on these routes.
tblair@dupuch.com