Source:
Date:
Updated:

Business Wire
Tuesday, May 7, 2013
Tuesday, May 7, 2013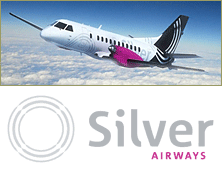 FORT LAUDERDALE, Fla.–(BUSINESS WIRE)–Silver Airways, Florida's hometown airline and the largest U.S. carrier to The Bahamas, announced today that it has completed its comprehensive fleet upgrade covering the neighboring markets. As of May 2013, the Fort Lauderdale-based carrier will deploy state-or-the-art, 34-seat Saab 340Bplus aircraft exclusively on all 14 routes within the State of Florida, as well as its nine routes between Florida and The Bahamas. The new Saabs replace smaller 19-seat Beechcraft 1900D aircraft, offering greater comfort, added cargo capacity and class-leading fuel economy.

To celebrate the fleet upgrade, Silver Airways has launched a new sale offering discounts as follows:
Intra-Florida one-way fares starting from $55* (taxes and fees included and restrictions apply)
Florida to The Bahamas one-way fares starting from $98** (taxes and fees included and restrictions apply)
The Bahamas to Florida one-way fares starting from $142** (taxes and fees included and restrictions apply)
For more information, visit www.gosilver.com.
To take advantage of the sale, all travel must be booked between Tuesday, May 7 and Thursday, May 9, 2013 at 8:00pm EDT. Sale fares apply to select travel dates between August 13 and October 16, 2013. A seven-day advance purchase is required. Blackout dates are August 31, 2013 and September 3, 2013 and certain other restrictions apply.
One of the most advanced turboprops operating today, the 34-seat Saab 340Bplus is distinguished among the world's most eco-friendly aircraft, burning 60% less fuel per hour than a 70-seat regional jet. Each Silver Airways Saab 340Bplus is outfitted with plush leather seating, ample legroom, large and easily accessible overhead bins, personalized flight attendant service, on-board lavatories, and an active noise reduction system, delivering a superior in-flight experience.
For reservations, fares, schedules and more information, visit www.GoSilver.com.
About Silver Airways (www.gosilver.com)
Silver Airways Corp. (IATA: 3M) is a U.S. airline operating 100+ daily scheduled flights to/from 47 gateways in Florida, The Bahamas, Ohio, New York, Pennsylvania, Virginia, West Virginia, Montana, Mississippi, Alabama, and Georgia. The company is owned by Victory Park Capital, a Chicago-based investment firm that re-launched the airline in May 2011.
Silver Airways is headquartered in Fort Lauderdale, Florida and operates under a principal code share and alliance agreement with United Airlines and Copa Airlines. The Silver Airways fleet is comprised of 21 Saab 340Bplus aircraft (maximum capacity of 34 passengers in a spacious, noise reduction equipped cabin), each powered by highly reliable, fuel-efficient jet-turbine propeller engines and 11 Beechcraft 1900D aircraft (maximum seating capacity: 19 passengers). Silver Airways is among an elite group of airlines that was named a recipient of Air Transport World's (ATW) 2013 Airline Industry Achievement Award, and the first U.S. airline to win regional aviation's top honor since 2008. This award recognizes Silver's outstanding growth and achievements as well as the company's contributions toward elevating the entire regional aviation industry overall. The ATW Airline Industry Achievement Award is the longest-running and most-respected airline industry honor in the world.