Source:
Date:
Updated:

PRNewswire
Thursday, October 25, 2012
Thursday, October 25, 2012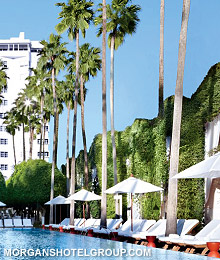 NEW YORK, Oct. 25, 2012 /PRNewswire/ — Morgans Hotel Group Co. (NASDAQ: MHGC) today announced that it will release its third quarter 2012 results after the market closes on Thursday, November 1, 2012.
In conjunction with the release, the Company will host a conference call to review the quarter's results on Friday, November 2, 2012 at 10:30AM Eastern time. The call will be webcast live over the Internet and can be accessed at www.morganshotelgroup.com under the About Us, Investor Overview section. Participants should follow the instructions provided on the website for the download and installation of audio applications necessary to join the webcast.

The call can also be accessed live over the phone by dialing (888) 802-8577 or (973) 935-8754 for international callers; the conference ID is 57989242. A replay of the call will be available two hours after the call and can be accessed by dialing (800) 585-8367 or (404) 537-3406 for international callers; the conference ID is 57989242. The replay will be available from November 2, 2012 through November 9, 2012.
About Morgans Hotel Group
Morgans Hotel Group Co. (NASDAQ: MHGC) is widely credited as the creator of the first "boutique" hotel and a continuing leader of the hotel industry's boutique sector. Morgans Hotel Group operates Delano in South Beach and Marrakech, Mondrian in Los Angeles, South Beach and New York, Hudson in New York, Morgans and Royalton in New York, Shore Club in South Beach, Clift in San Francisco, Ames in Boston, Sanderson and St Martins Lane in London, and a hotel in Playa del Carmen, Mexico. Morgans Hotel Group has ownership interests or owns several of these hotels. Morgans Hotel Group has other property transactions in various stages of completion, including Delano properties in Las Vegas, Nevada; Cesme, Turkey and Moscow, Russia; Mondrian properties in London, England; Marrakech, Morocco; Istanbul, Turkey; Doha, Qatar and Nassau, The Bahamas; and a Hudson in London, England. Morgans Hotel Group also owns a 90% controlling interest in The Light Group, a leading lifestyle food and beverage company. For more information please visit www.morganshotelgroup.com.
Forward-Looking and Cautionary Statements
This press release may contain certain "forward-looking statements" within the meaning of the Private Securities Litigation Reform Act of 1995. Such forward-looking statements relate to, among other things, the operating performance of our investments and financing needs and prediction of certain future other events. Forward-looking statements are generally identifiable by use of forward-looking terminology such as "may," "expect," "anticipate," "estimate" "believe," "project," or other similar words or expressions. These forward-looking statements reflect our current views about future events and are subject to risks, uncertainties, assumptions and changes in circumstances that may cause our actual results or other future events to differ materially from those expressed in any forward-looking statement. Important risks and factors that could cause our actual results to differ materially from those expressed in any forward-looking statements include, but are not limited to economic, business, competitive market and regulatory conditions such as: a sustained downturn in economic and market conditions, particularly levels of spending in the business, travel and leisure industries; continued tightness in the global credit markets; general volatility of the capital markets and our ability to access the capital markets; our ability to refinance our current outstanding debt and to repay outstanding debt as such debt matures; our ability to protect the value of our name, image and brands and our intellectual property; risks related to natural disasters, such as earthquakes, volcanoes and hurricanes; hostilities, including future terrorist attacks, or fear of hostilities that affect travel; and other risk factors discussed in Morgans' Annual Report on Form 10-K for the fiscal year ended December 31, 2011, and other documents filed by Morgans with the Securities and Exchange Commission from time to time. All forward-looking statements in this press release are made as of the date hereof, based upon information known to management as of the date hereof, and Morgans assumes no obligations to update or revise any of its forward-looking statements even if experience or future changes show that indicated results or events will not be realized.