Commonwealth Bank recently reported profits of $47.3 million for the nine-month period ending September 30. The profits report reflected a 7.6 per cent increase over the same period one year ago when profits stood at $43.9 million.
Announcement of third quarter results was made by chairman William Sands Jr towards the end of last month.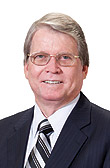 "The improvement in net interest margin continues to be a key contributing factor along with the effective management of our credit portfolio and our focused attention on expense mitigation practices," said Sands (pictured).
"The bank continued to focus on high quality credit opportunities which resulted in a non-performing loan ratio of 4.58 per cent, while the industry average as of September 30 was 14.3 per cent."
Commonwealth Bank holds the greatest market capitalization on the Bahamas International Securities Exchange (BISX), and has consistently paid out quarterly dividends to its shareholders since going public in the year 2000.
As of September, the company's share price was $10.44 up from $7.84 at December 2015. The report of unaudited results showed total assets of $1.5 billion, an increase of 1 per cent during the nine-month period.
Total revenues increased by 6.1 per cent to $119.1 million, up from $112.3 million for the same period last year, while net interest income rose 6.6 per cent to $107.5 million.