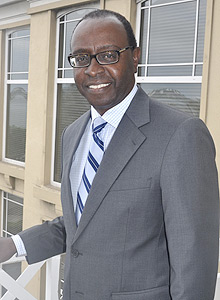 Local law firm Higgs & Johnson has named partner and head of litigation Oscar Johnson Jr as the new managing partner and global managing director.
Johnson succeeds Philip Dunkley, QC, who had management responsibility for the firm from 1999-2006 and again from 2009-2012. Dunkley will remain as senior partner of the firm.
Johnson joined the firm as an associate in 1985 and became a partner in 1992. He practices a full range of corporate and commercial law, specializing in commercial and civil litigation, merchant shipping and admiralty law, insurance, international finance and employment law.
The firm is headquartered in The Bahamas at Ocean Centre at Montagu, Nassau, with offices throughout The Bahamas and in the Cayman Islands.