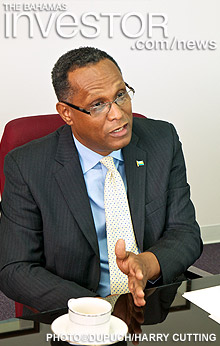 The newly established Ministry of Grand Bahama is in negotiations with the Grand Bahama Port Authority (GBPA) to tackle one of the business community's biggest concerns—electricity costs.
Minister of Grand Bahama Michael Darville says discussions with GBPA are "ongoing" and that the government is committed to exploring alternative energy sources such as natural gas, solar power and ocean thermal energy.
Grand Bahama's industrial sector has long been challenged by the price of power on the island, with some companies running their own generators, rather than relying on the island grid.
Minister Darville acknowledges that this is a major concern and could be stunting the sector's growth, saying: "The industrial sector and power go hand in hand."
"The growth and expansion of facilities are directly related to the reduction of the cost of electricity. We lower the cost [and] we would see an expansion in the industrial sector. It is an issue that is ongoing, we realize it is a real challenge."

The Minister says government is keen to explore alternatives that would reduce the country's dependency on fossil fuels.
"Fossil fuel is a problem; the cost of fuel has fluctuated for years," he says. "We are leaning towards alternative fuels and moving towards compressed natural gas as an immediate way to address the present costs, but [we are also] taking into consideration ocean thermal energy and solar energy."
"We have a plan and we are working very diligently to meet the short-term goals, while planning for long-term solutions."
Prime Minister Perry Christie created the Ministry of Grand Bahama in May this year to tackle the challenges unique to The Bahamas' second most populated island after New Providence. The Ministry's remit includes promotion of tourism, agricultural development, creating employment opportunities and environmental protection.
cmorris@dupuch.com