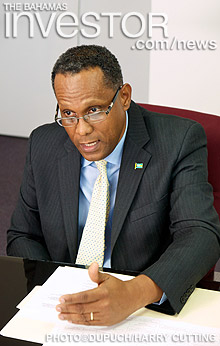 The Minister of Grand Bahama, Michael Darville (pictured), says the newly created Ministry has drawn up its portfolio, identified the areas of most need and is ready to tackle the island's challenges.
"The economic crisis and lack of jobs have negatively affected a large amount of people on this island and we understand that need," he said.
"We are working very diligently to ensure that the residents who are in need have access to the services we have put in place, while the economy moves forward for growth and development."
The Ministry will be one of the instrumental tools that will lead the way to economic recovery, he added.
Shortly after winning the election in May, Prime Minister Perry Christie announced he would establish a new Ministry devoted solely to Grand Bahama to guide its economic recovery, encourage foreign direct investment and boost its tourism product.

"We are very proud of the fact that, within 100 days, we have built a Ministry from the ground up," said Darville. "All of our major portfolios have already been identified and we have started training for the expertise to drive those portfolios."
According to Darville, the Prime Minister and Cabinet have been an instrumental force to ensure the ministry is up and running and has all the necessary resources needed to be successful and to start the process of economic recovery.
The Ministry is the first dedicated to the island and its portfolio includes revitalization of Grand Bahama as a tourism and industrial centre, promotion of agriculture, advancement of health and educational infrastructure and environmental protection.
In addition, it will oversee the extension of duty-free concessions to east and west Grand Bahama, extending the original remit of the Hawksbill Creek Agreement, which currently only applies to Freeport.
cmorris@dupuch.com