Source:
Date:
Updated:

PRNewswire
Thursday, July 12, 2012
Thursday, July 12, 2012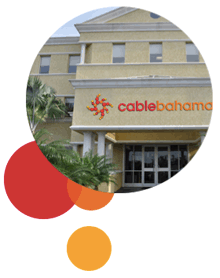 ST. LOUIS, July 12, 2012 /PRNewswire/ — (NYSE: DOX), the leading provider of customer experience systems and services, today announced that Cable Bahamas Ltd., the largest triple-play (cable TV, broadband, voice) provider in the Bahamas, has signed a five-year extension for license and services for Amdocs CES Multi-Play Smart Pack, a pre-integrated customer care and billing solution for cable operators with convergent offerings.
The Amdocs solution will support Cable Bahamas' expansion into voice services, while continuing to support its cable TV and broadband services. Amdocs Multi-Play Smart Pack will enable Cable Bahamas to deliver converged services while providing a single view of its customers across all its lines of business.

"By expanding the same proven Multi-Play Smart Pack platform that already supports our cable and broadband services, we will be able to speed time-to-market for our new voice services," said Tony Butler, Cable Bahamas CEO. "We expect to achieve greater efficiencies and increase our competitive advantage by offering our customers new bundled service packages."
"Amdocs CES Multi-Play Smart Pack provides pre-integrated customer-centric care and billing for service providers with convergent offerings," said Rebecca Prudhomme, vice president of product and solutions marketing for Amdocs. "Smart Pack's ability to support telephony – not just wireline, but also wireless, VoIP (voice over IP) and MVNO (mobile virtual network operator) – means this is a solution that can expand along with Cable Bahamas' business, in addition to its cable and broadband services. Customers will benefit from a consistent experience, whichever combination of services they're using."
Cable Bahamas is a longtime Amdocs customer that has relied on CES Multi-Play Smart Pack to provide billing and customer care services for 12 years.
Supporting Resources
More information on Amdocs CES Multi-Play Smart Pack is available here.
Keep up with Amdocs news and blogs by visiting the company's website
About Cable Bahamas Ltd. (CBL)
Cable Bahamas provides world-class cable television services, international data communications, web hosting, business continuity and high-speed Broadband services over its high tech broadband network to residents and businesses on 19 islands in The Bahamas under the product name of REV. With revenues exceeding $85 million, the company has built a state-of-the art broadband network consisting of a Hybrid Fiber Coax used for all broadband services, video and High Speed Data and a direct fiber network for Ethernet and TDM based services. Today, CBL is wholly owned by over 2,000 Bahamians and the Government of The Bahamas.  In addition, the company created the Cable Cares Foundation and has awarded over $1.7 million to local Bahamian non-profits organizations.  In October 2009, CBL received a 15 year license from the Utilities Regulation and Competition Authority (URCA) that allows the Company to provide any type of network or carriage communications services inclusive of voice, video, and data services.  In May 2011, CBL acquired SRG/IndiGO to become the first Triple Play provider in The Bahamas.
About Amdocs
For 30 years, Amdocs has ensured service providers' success and embraced their biggest challenges. To win in the connected world, service providers rely on Amdocs to simplify the customer experience, harness the data explosion, stay ahead with new services and improve operational efficiency. The global company uniquely combines a market-leading BSS, OSS and network control product portfolio with value-driven professional services and managed services operations. With revenue of approximately $3.2 billion in fiscal 2011, Amdocs and its over 19,000 employees serve customers in more than 60 countries.
Amdocs: Embrace Challenge, Experience Success.
For more information, visit Amdocs at www.amdocs.com.
Amdocs' Forward-Looking Statement
This press release includes information that constitutes forward-looking statements made pursuant to the safe harbor provision of the Private Securities Litigation Reform Act of 1995, including statements about Amdocs' growth and business results in future quarters. Although we believe the expectations reflected in such forward-looking statements are based upon reasonable assumptions, we can give no assurance that our expectations will be obtained or that any deviations will not be material. Such statements involve risks and uncertainties that may cause future results to differ from those anticipated. These risks include, but are not limited to, the effects of general economic conditions, Amdocs' ability to grow in the business segments it serves, adverse effects of market competition, rapid technological shifts that may render the Company's products and services obsolete, potential loss of a major customer, our ability to develop long-term relationships with our customers, and risks associated with operating businesses in the international market. Amdocs may elect to update these forward-looking statements at some point in the future, however the Company specifically disclaims any obligation to do so. These and other risks are discussed at greater length in the Company's filings with the Securities and Exchange Commission, including in our Annual Report on Form 20-F for the fiscal year ended September 30, 2011, filed on December 8, 2011 and our Form 6-K furnished for the second quarter of fiscal 2012 on May 15, 2012.