Bimini is set out to receive a major boost to its economy as Genting Malaysia will partner with RAV Bahamas to launch Resorts World Bimini Bay, a luxury boutique casino facility at Bimini Bay Resort & Marina on North Bimini island.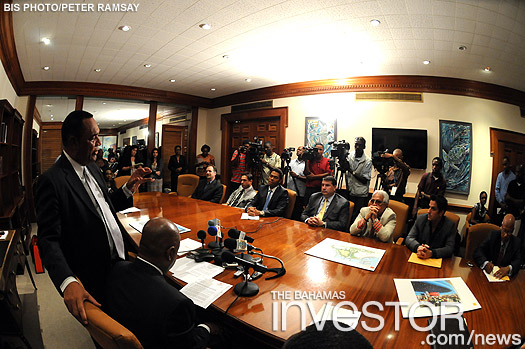 Prime Minister Perry Gladstone Christie (left) at the announcement that Resorts World Genting and Rav Bahamas Ltd will partner to create a new luxury boutique for the Bimini Bay Resort and Casino. Sitting opposite are top executives from the two entities. (BIS Photo/Peter Ramsay)

The project, once completed, is expected to employ some 300 people directly and up to 1,000 indirectly.
The government is currently holding talks with three major airlines, including Bahamasair and several charter services to increase airlift to the island.
The announcement was made during a press conference held at the Office of the Prime Minister June 29.
"This is an important venture not only for Rav Bahamas and Resorts World, but also for the island of Bimini as it provides further stability for the local economy in a destination that already enjoys a 79 per cent visitor return," said Prime Minister Perry Christie.
Chief executive officer of RAV Bahamas, Gerardo Capo, said that he is very excited to have this opportunity to expand his company's investments in The Bahamas.
"We are thrilled to align with Genting Malaysia and the Resorts World Brand," said Capo. "In addition to offering our residents and hotel guests world-class service, the project's success is also contingent on providing a superior quality produce."
Genting is a member of The Genting Group, the world's largest destination resort operator with Resorts World-branded properties in Malaysia, Singapore, Manila and New York City. In addition, the Genting Group has global investments in plantations, power generation, oil and gas, real estate, cruise, leisure and other industries.
RAV Bahamas is a real estate development and construction company in The Bahamas, which specializes in hotel, residential, retail, commercial, marine and infrastructure projects throughout the Caribbean.
Bimini Bay Resort & Marina is a master-planned oceanfront community featuring over 480 luxury homes and villas suites, the largest yacht marina complex in The Bahamas, four restaurants, two pools, an open-air shopping village, tennis, children's play centre and newly opened beach club.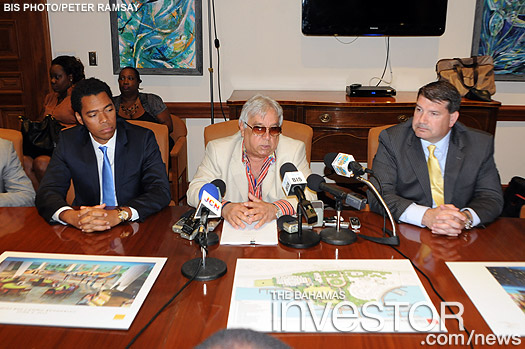 Pictured at the press conference for the new casino from left: chief operating officer for RAV Bahamas, Leslie Bethel; chairman, Group/RAV Bahamas, Geraldo Capo; and president, Resorts World Bimini Bay Bahamas, Dana Leibovitz. (BIS Photo/Peter Ramsay)